World news story
'One-HMG' Launched in Freetown
British High Commission in Freetown fully integrates the One-HMG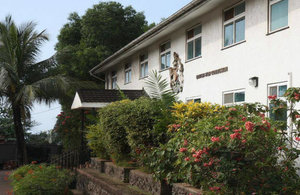 On Friday 4 March the British High Commissioner to Sierra Leone, Mr Peter West, officially launched the newly, consolidated 'One-HMG' Corporate Services Team at the British High Commission in Freetown. The launch was the culmination of months of hard work to integrate staff and merge systems from different HMG Departments, and it included a major building project to develop a new, open-plan facility. Mr West said the new team would help bring HMG Departments working in Sierra Leone even closer together and he hoped that the new purpose-built office would strengthen the already excellent team spirit within the Team.
The UK Government took the decision to consolidate the various corporate teams of each HMG Department working overseas. HMG Departments such as the MOD, FCO, DFID operated their own Finance, IT, Transport Logistics and Maintenance services individually - all of these have now been consolidated into 'One-HMG' platforms wherever the UK has a presence overseas.
We wish our new 'One-HMG' Team all the best for the future!
Published 10 March 2016