Ombudsman to offer better public redress service
Outdated Local Government Ombudsman to be reformed.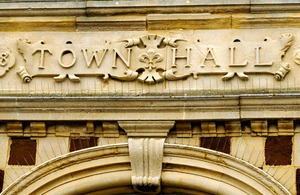 An independent review published today (29 November 2013) recommends that the government reforms the Local Government Ombudsman, which deals with poor council services.
The independent review also recommends that consideration be given to the creation of a single public services ombudsman for England. Establishing a 1-stop-shop for problems or complaints will make it easier for the public to register complaints and seek redress.
Currently the public can complain to either the Local Government Ombudsman or the Parliamentary and Health Service Ombudsman when they feel they've suffered poor service from local government and seek compensation.
The government shares the reviewer's conclusions and intends to develop and test ideas for how such a 1-stop-shop service might operate.
In the short term, the government accepts the conclusions of the review that the governance arrangements of the Local Government Ombudsman service should be modernised, moving to a single Local Government Ombudsman for England, providing robust and consistent leadership, driving up performance and ensuring that the public can obtain swift redress when things go wrong.
The review conducted by Robert Gordon CB, a former director general in the Scottish government, carefully examined how the ombudsman operated and what would benefit taxpayers better in the future.
Local Government Minister Brandon Lewis said:
The old ombudsman structure was outdated and not up to the task, modernising the organisation now is essential. In the longer term, creating a single ombudsman service for England may well provide us with the opportunity to deliver an excellent service to the public into the future.

When things go wrong the public need to know they have an effective redress service that deals with complaints about local government in a speedy and cost effective way.
Further information
In March 2013 the Communities Secretary Eric Pickles commissioned an independent review of governance structure of the Local Government Ombudsman service. The review, undertaken by Robert Gordon CB, has now reported with the reviewer's conclusions and recommendations.
See a copy of the report.
On 16 October the Minister for Government Policy announced to the public administration select committee 2 separate reviews:
1 to look into the question of how better use can be made of complaints to achieve both redress for the citizen and improvement in service delivery
the other to look at the question of the ombudsmen landscape
All council services can be investigated including housing, planning, education, social services, Council Tax, housing benefit and highways.
Published 29 November 2013