World news story
Omani–British joint working group held its fourth meeting
The Omani–British joint working group held its fourth meeting at the Ministry of Foreign Affairs in Muscat on 10 February 2013.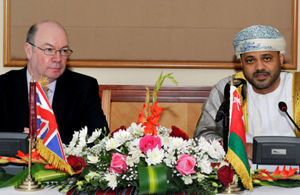 The British side was headed by Mr. Alistair Burt , Minister of State for the Middle East at the Foreign & Commonwealth Office. The Omani side was headed by Sayyid Badr bin Hamoud al-Busaidi, Secretary General of the Ministry of Foreign Affairs.
Mr. Burt said after the meeting that this is his third visit to Oman . He said that his visit comes after the visit of the Prime Minister Mr. David Cameron to Oman in December 2012 and the visit of the Lord Mayor of London to Oman in January 2013. He said that these visits reflect the depth of the relations between the two countries. Mr. Burt said that what is striking about the Omani-British relations is the warmth of these relations .He added that although no specific agreements have been signed, following the meeting of the joint working group , it helps in structuring the relations between the two countries.
The joint working group has sub-groups, which focused on education , training , culture and heritage. He added that Britain wants to help Oman with regard to SMEs. He said that this can be done by ensuring SMEs' growth through mentoring. He also pointed out that when UK companies invest in Oman, they benefit local SMEs through their supply chain. He also added that teaching entrepreneurship would help in stimulating SMEs' growth. Mr. Burt will depart Oman on 11 February 2013.
Published 11 February 2013