Olympics delivered £7.3 billion win through construction of Park
Sport, community and regeneration legacy plans from Olympic and Paralympic Games also on track.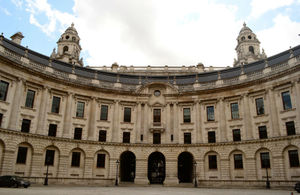 The economic boost to the UK through construction on the London 2012 Olympic and Paralympic Games is £7.3 billion, according to the latest data from an independent report published today.
On top of this economic boost from construction, interim findings from the Meta-Evaluation of the Impacts and Legacy of the London 2012 Olympic Games and Paralympic Games found that plans are progressing well to ensure a strong sports legacy, strengthen communities and help regenerate East London.
The report, from a consortium led by Grant Thornton, commissioned by the Department for Culture, Media and Sport, takes data available up to June 2012. It found that the £6.5 billion of Olympic Delivery Authority (ODA) spend on the construction of the venues,  infrastructure and the Olympic Village is estimated to have resulted in an impact of £7.3 billion of Gross Value Added (GVA) and 160,000 job years of employment.
The CompeteFor Website, that raised awareness of Games-related contract opportunities for small businesses, helped generate growth, with over 140,000 businesses registered on the site by the end of 2010/11.
On the sports front, the report found that dedicated legacy programmes have helped bring young people into sport and kept them participating.
Of the 100,000 young people that signed up to Sport England's Sportivate programme, 82 per cent completed all but one session, and 89 per cent of those were still playing sport regularly three months later. The report also praised legacy projects such as Premier League 4 Sport, a partnership between the Premier League, Youth Sport Trust and Sport England. It uses the pulling power of top professional football clubs to encourage young people to try other Olympic sports. Premier League 4 Sport has reached 40,000 young people, double the amount of participants initially targeted.
The School Games, a Government funded Olympic-style school sport competition, that had its inaugural finals in the Olympic Park in May, also surpassed its target of 12,000 schools signed up, with 13,600 registered by May 2012.
The Inspire programme was also singled out in the report. This enabled non-commercial organisations across the country to link their events and projects officially to the 2012 Games. Of the 2,713 Inspire projects 43 per cent of them (1,172) were sports related that took place right across the UK.
The report acknowledges that the world class sports facilities in the Olympic Park will also encourage participation when they are opened up in legacy mode and, subject to stadium attendance, are anticipated to host between three to four million visits in 2016.
Minister for Sport, Hugh Robertson said: "The legacy from the London 2012 Games gives us an opportunity to regenerate East London, maximise opportunities to drive economic growth and encourage a generation to choose sport. London 2012 has raised the bar for future host cities and I am encouraged that this report shows we are on track to deliver a meaningful legacy."
The pre-Games period also saw a huge programme of community engagement related to the Games across the UK, with 15 million people seeing the Olympic Torch Relay and 70,000 people recruited as Games Maker volunteers. To help build on the success of the Games Makers, research is underway in order to get first hand detail on volunteering experiences and motivations.
On the regeneration of East London the report suggests that based on key socio-economic indicators East London appears to be 'closing the gap' with the rest of London in areas such as education and life expectancy.
It adds that without London staging the Games certain improvements wouldn't have taken place. These include the remediation and clean-up of 2.5 square km of largely derelict, polluted and inaccessible land and major transport improvements at Stratford station and surrounding host boroughs.
The Games was also able to leverage wider private sector benefits such as its role in bringing forward the building of the Westfield shopping centre at Stratford City that has created jobs and economic benefits to the local area.
The London Legacy Development Corporation's plans for the Olympic Park will also further transform the local area in the years to come.  As part of their plans nearly 7,000 new homes will be built (35% affordable and 42% family homes), over 4,000 new jobs created (excluding construction) with 75% for residents of the host boroughs and 35% for BAME residents, while three schools, three health centres and a number of multi-purpose community, leisure and cultural spaces will be built in a Park that will include 102 hectares of open space
The fifth and final Meta-Evaluation report will assess the impacts during the Games and of immediate post-Games activities and is due to be published by summer 2013.
Notes to Editors
To view the final report 4

To view the previous meta-evaluation reports 1-3.

The 'Meta-Evaluation of the Impacts and Legacy of the London 2012 Olympic Games and Paralympic Games' interim report, commissioned by DCMS and carried out by a consortium led by Grant Thornton, is based on the results of a number of individual legacy programmes, projects and initiatives, along with additional research to assess the overall legacy and impacts of the Games. This is the fourth meta-evaluation report published out of a total of five and focuses on data and evidence from the pre-Games period looking at the sports legacy, economic growth, community engagement and the regeneration of East London.

Reports 1 and 2 (setting out the policy context, research questions, method and analytical framework) were published in August 2011. Report 3, setting out the baseline analysis and counterfactual (i.e. what would have been expected to have occurred in the absence of the 2012 Games) was published in January 2012.

Job years explained - throughout the analysis employment impacts are given in terms of 'job years' in line with standard economic convention. A Job year is a measure of employment that enables jobs that have different durations or vary by part-time / full-time to be added together. Each 'job year' may be a permanent post, a temporary contract, several temporary contracts, or the full-time equivalent of several part-time roles.
Press Enquiries: 020 7211 2210
Out of hours telephone pager no: 07699 751153
Public Enquiries: 020 7211 6000
Published 13 November 2012