Olympic-style Sports Competition for Young People launched as part of 2012 Legacy
Initiative to revive competitive sport in schools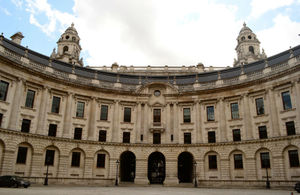 A new Olympic and Paralympic-style sports competition for young people across England was announced today by Culture Secretary Jeremy Hunt and Education Secretary Michael Gove.
Up to £10 million of lottery funding, distributed by Sport England, will create a new sports league structure for primary and secondary schools culminating in an inaugural national final to be held in the run up to the London Olympic and Paralympic Games in 2012.
The competition is a key part of the Government's plans for a lasting sporting legacy from hosting the London 2012 Games and to maximise the sporting opportunities available to all.
Schools will compete against each other in leagues at a local level from 2011 with winning athletes and teams qualifying for up to 60 county finals.
The most talented young athletes will then be selected for the national finals. Schools will also be encouraged to host in-house Olympic-style sports days so that children of all abilities have the opportunity to compete. There will be a Paralympic element at every level of the competition for young people with disabilities.
The ambition is for the competition to continue after 2012.
Secretary of State for Culture, Olympics, Media and Sport Jeremy Hunt said:
"I want to give a real boost to competitive sport in schools using the power of hosting the Olympic and Paralympic Games to encourage young people - whatever age or ability - to take part in this new competition.
"Competitive sport - whether you win or lose - teaches young people great lessons for life. It encourages teamwork, dedication and striving to be the best that you can be. This will be a key part of our drive to leave a real lasting sports legacy from London's games."
Education Secretary Michael Gove said:
"We need to revive competitive sport in our schools. Fewer than a third of school pupils take part in regular competitive sport within schools, and fewer than one in five take part in regular competition between schools. The School Olympics give us a chance to change that for good."
The Mayor of London Boris Johnson said:
"We have a unique opportunity with the 2012 Games to set in place a lasting legacy for sport provision and participation across the capital. In London we are  driving forward our sport legacy plan that is building on the many exciting projects and partnerships already in place. Schemes such as this national Olympic-style schools competition are the perfect catalysts to get the whole country active, inspiring our young people and creating sporting stars of the future."
Youth Sport Trust School Sport Ambassador Denise Lewis, said:
"This is a fantastic opportunity to build on the excellent work that is being driven by School Sport Partnerships across the country to develop and encourage competitive sporting opportunities for young people. Competitive sport, when delivered well, can benefit young people in so many ways - from developing social skills and breaking down cultural barriers to providing a platform for self-expression and a sense of achievement.  As a naturally competitive person, I'm delighted that more opportunities are being created for young people to compete in sport at school."
Sport England chief executive Jennie Price said:
"Experiencing the thrill of sporting success is not something we all get to enjoy. But now, through this competition, more children across the country will get a taste of what it means to be part of a major sporting event. The more people London 2012 inspires, the greater the long-term impact of hosting the Games will be."
Notes to editors
Jeremy Hunt's speech at the City of London Academy in Bermondsey, which outlined the scheme, is available on the DCMS website.

Up to £10 million lottery funding per year, from 2011 / 12, will be as a result of the Government's recently announced lottery reform plans, to enable more lottery grants to go to sport.

DCMS is currently working closely with the BOA, Sport England and Youth Sport Trust on the competition, with a more detailed announcement to come later in the year.
Press Enquiries: 020 7211 2210
Out of hours telephone pager no: 07699 751153
Public Enquiries: 020 7211 6000
Published 28 June 2010