Olympic Roundup - Wednesday 25 July
Today's look at Foreign Office activity and the events taking place in and around the London 2012 Olympic Games.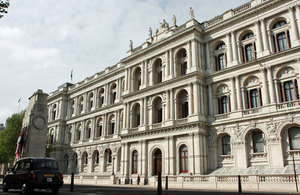 Commonwealth Sports Ministers Meeting
Minister for Sport, Hugh Robertson, has chaired the 6th Commonwealth Sports Ministers Meeting which met, on the eve of the Olympic Games to discuss how sport can contribute to advancing development goals.
The half-day meeting drew attention to how Sport for Development and Peace can be used in efforts to address social and economic challenges and promote global public health.
Commonwealth Sports Ministers Meeting
Olympic activity around the world
The Foreign Office has launched a Pinterest board to showcase the Olympic activities of its Embassies and offices around the world. The board will show how the Olympic Games are providing a platform to celebrate and strengthen the UK's global ties.
Published 3 August 2012