Olympic Roundup - Wednesday 1 August
Today's look at Foreign Office activity and the events taking place in and around the London 2012 Olympic Games.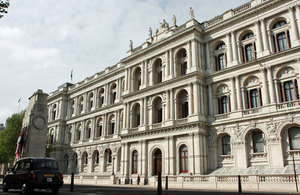 Foreign Office Minister Henry Bellingham met with the Honourable Minister for Petroleum Resources of Nigeria Mrs Diezani Alison-Madueke to discuss the potential of the Nigerian oil and gas sector.

Foreign Office Minister Alistair Burt attended the Global Business Summit on Education at Lancaster House where international delegates gathered to explore how sport, science and technology can be used to encourage the next generation to study.
Minister for Africa Henry Bellingham has welcomed two winners of the David Astor Journalism Awards - Kenfrey Kiberenge, from Kenya, and Yasiin Mugerwa, from Uganda - to the Foreign and Commonwealth Office. The David Astor Awards support the development of journalistic excellence in Kenya, Uganda and Tanzania by providing scholarship opportunities to the next generation of journalists.

Foreign Office Minister Jeremy Browne has met young Olympic Truce Ambassadors from Colombia as part of an initiative to support young people from one of Colombia's most violent regions. The athletes have overcome significant challenges as they strive to become Olympians of the future.

Foreign Secretary William Hague has met Switzerland's Federal Councillor for Foreign Affairs Didier. During their meeting, the Foreign Secretary and Federal Councillor Burkhalter discussed the rich relationship between the United Kingdom and Switzerland and the many shared interests in Europe and the wider world including Syria, Iran and the Western Balkans.

The oldest living 100m gold medal winner, Harrison Dillard, visited the Foreign Office today, 64 years after he won gold medals at the London Olympic Games in 1948. Harrison held up the 1948 torch which is on display at the Foreign Office during the Games.

In pictures: Foreign Office Minister Henry Bellingham meets Sam Ongeri, Foreign Minister of Kenya.

The British Business Embassy is today hosting a Global Business Summit on Education. This is a unique forum for industry, government and academia to debate opportunities, challenges and topical themes in this crucial sector. The event is being streamed live on the British Business Embassy's YouTube channel.
Published 3 August 2012