Olympic Roundup - Tuesday 7 August
Today's look at Foreign Office activity and the events taking place in and around the London 2012 Olympic Games.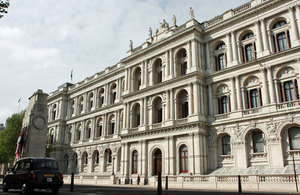 Permanent Under Secretary, Simon Fraser talks about how the Foreign Office has been working to make the London 2012 Olympics a resounding success.
During the Olympics, the work of the Foreign Office covers a broad range of activity, from managing the visits of over 80 Heads of State and Government, to promoting the message and the spirit of the Olympics and Paralympics through Embassies, High Commissions and Consulates around the world.
Discussing #OlympicDiplomacy and how the Games have been an excellent opportunity to engage with governments on key international issues, Mr Fraser highlights the UK's exceptional achievement in getting all of the UN members to sign up to the Olympic Truce; and he points to the platform the Games provide to promote the UK as a great place to invest and do business.
listen to 'Olympic Diplomacy' on Audioboo
The British Business Embassy is hosting the second day of a Global Business Summit on Energy. The two-day summit is focused on the delivery of safe, secure, sustainable and smarter energy 'ecosystems', from extraction through to the end user. The summit is being streamed live on the UKTI YouTube channel.
Prime Minister David Cameron last night attended an Olympic memorial event to remember the 11 Israeli athletes who lost their lives in Munich 40 years ago.
In pictures: Foreign Office Minister Jeremy Browne last night attended a Government Olympic Observer Programme for Brazil event held at the Brazilian Embassy in London
Video: The clip below shows Foreign Office Minister Jeremy Browne meeting veteran Chinese basketball player, Mr Wu Chengzhang, yesterday at the Foreign Office.
Published 7 August 2012