Olympic Roundup - Tuesday 31 July
Today's look at Foreign Office activity and the events taking place in and around the London 2012 Olympic Games.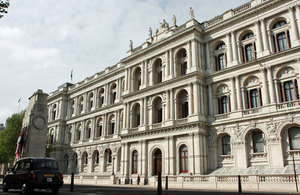 Minister for Africa Henry Bellingham has spoken at the opening of the Kenya Investment Summit hosted by Kenyan President Mwai Kibaki and attended by the Kenyan Ministers of Foreign Affairs, Finance, Trade and Energy, as well as business leaders from the UK and Kenya. During his speech, Mr Bellingham highlighted how Britain is supporting Kenyan institutions to deliver free, fair and peaceful elections, and working with the Kenyan government to implement the legal framework governing Public-Private Partnerships and to reduce the barriers to intra-regional trade.

Creative Content is the focus at the British Business Embassy today. The Global Business Summit on Creative Content is a unique event focused on exploring the core theme of commercialising creativity in the international marketplace. Follow the event live on the British Business Embassy website.
On Monday evening Minister for Africa Henry Bellingham and David Coltart, Zimbabwean Minister for Education, Sport, Arts and Culture, reaffirmed the close friendship between the two countries as they watched Zimbabwean Kirsty Coventry race in the 200m Individual Medley Semi-finals against other Olympic hopefuls, including Team GB's Hannah Miley.
Published 31 July 2012