Olympic Roundup - Saturday 11 August & Sunday 12 August
A look at Foreign Office activity and the events taking place in and around the London 2012 Olympic Games.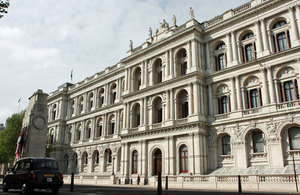 Sunday
Foreign Secretary William Hague met the Prime Minister of the Republic of Latvia, Valdis Dombrovskis in London. During the meeting the two leaders discussed a wide range of bilateral, European and international matters. The Foreign Secretary raised the next UK-Nordic/Baltic Prime Ministers summit, which will be held in Riga next year. See also photo.

Prime Minister David Cameron has appointed Lord Coe as his Olympics legacy ambassador. Lord Coe will advise the Prime Minister on how best to secure the long-term benefits of hosting the Games, particularly focusing on the economic and business benefits from putting on such a successful Olympics. Read more on the Number10 website.
Saturday
Published 12 August 2012