Olympic Roundup - Monday 30 July
Today's look at Foreign Office activity and the events taking place in and around the London 2012 Olympic Games.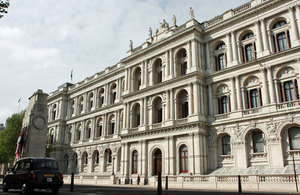 Foreign Secretary William Hague meets President Tsakhia Elbegdorj of Mongolia and discussed the strategic partnership between the UK and Mongolia.

Foreign Office Minister Alistair Burt meets His Royal Highness Prince Faisal of Jordan and discusses the situation in Syria.

David Lidington blogged about Kosovan judo star, Majlinda Kelmendi, and the difficulties Kosovan athletes face trying to compete for their country.
Jeremy Browne and Lord Howell today attended the Japanese National Olympics Committee's Olympic Reception. The Japanese Senior Vice Minister of Sports Mr Okumura was present as were a number of IOC members and members of National Olympics Committees from across the world. Minister Browne welcomed the fact that such a big Japanese delegation were taking part in the Games noting that the Japanese were tipped to perform well in a number of sports including swimming, wrestling, shooting and women's football, with the women's football team being the current world champions.

Foreign Office Minister Henry Bellingham met Dr Rufus Ewing, Party Leader of Progressive National Party of Turks and Caicos Islands. The Minister underlined that the UK remains committed to continuing open dialogue with both TCI political parties and independent candidates, and supporting the Premier chosen by the people of TCI in the November elections.

British Business Embassy: Investments worth around £15 million were outlined today at a creative industries global business summit, while a UK firm announced that it had won two contracts in Malaysia to design projects with a construction value of more than 300 million.

Foreign Secretary William Hague has met Deputy Prime Minister Teo of Singapore. Speaking after the meeting, the Foreign Secretary wished Singapore's athletes the best of luck during the Games and expressed his delight that the Duke and Duchess of Cambridge would be visiting Singapore in September.
Foreign Office Minister Henry Bellingham has given a speech at the Nigerian Investment Forum in London. In his speech, the Minister underlined the strong business relationship between the UK and Nigeria and the importance of the forthcoming Petroleum Industry Bill for fostering investment confidence in Nigeria.
Published 30 July 2012