Olympic Roundup - Monday 23 July
The Foreign Secretary's welcome message, marking the Olympic Truce, a message from the Pope and more.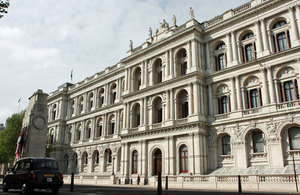 Foreign Secretary's welcome
In a video message, Foreign Secretary William Hague has offered a warm welcome to everyone attending, watching and taking part in the Games.
The Games will involve more than 200 countries, over 10,500 Olympic athletes, more than 4,200 Paralympic athletes and over 14,000 officials.
The Foreign Office will be busy welcoming over 100 heads of government and heads of state from across the world during the Games. Our Embassies and High Commissions have also been busy ensuring Olympic and Paralympic athletes from across the world arrive safely in the UK as well as organising special events in their country.
Marking the Olympic Truce
The Foreign Office marked the beginning of the Olympic Truce with activities around the world. The Truce traditionally begins one week before the opening of the London 2012 Olympic and Paralympic Games.
Foreign Office Minister Henry Bellingham highlighted the UK's commitment to the Olympic Truce ideals of conflict prevention and peace saying, "I am delighted that the UK's efforts to raise the ambition of what the Olympic Truce can help achieve have been embraced by the international community."
Find out more about the Foreign Office's global activities.
Pope Benedict sends message of support
His Holiness Pope Benedict XVI reflected ahead of the opening ceremony of the Olympic Games in London on the goodwill that such an international sporting event can generate to promote peace and reconciliation throughout the world.
Pope Benedict said:
"In a few days from now, the Olympic Games are due to begin in Great Britain. I send greetings to the organizers, athletes and spectators alike, and I pray that, in the spirit of the Olympic Truce, the good will generated by this international sporting event may bear fruit, promoting peace and reconciliation throughout the world."
Read the full message from His Holiness on the UK in the Holy See website.
Celebrating Ramadan at the Games
In a Foreign Office film launched last week, Director of Regent's Park Mosque Dr Ahmed Al-Dubayan and LOCOG Head of Multi-Faith Chaplaincy Rev Duncan Green discuss the facilities being offered to those observing Ramadan during the London 2012 Games.
The film is designed to raise awareness of the facilities available for athletes and spectators wishing to meet their faith obligations during the London Games.
One of our own
In a guest blog on William Hague's Facebook page Mara Yamauchi, Olympic marathon runner and member of staff at the Foreign Office, writes about what it's like to prepare for the Olympics, and how hard work, commitment and dedication are the qualities you need for success in sport as well as in life in general.
Published 23 July 2012