World news story
Olympic Legacy Project
The construction of an all weather basketball court for Deaf children and youth in Mutare is completed thanks to British Embassy funding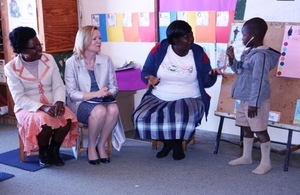 The British Embassy in Harare today officially handed over an all weather basketball court built as part of the London 2012 Olympic and Paralympic Legacy Project at Nzeve Centre for the Deaf in Mutare. The centre becomes the third institution in Zimbabwe to benefit from the initiative.
2012 saw the UK hosting the London Olympics and the Paralympics Games. The British Embassy then created a London 2012 Olympic Legacy Project in Zimbabwe valued at $100,000 with the objective of using the Paralympic Games to bring about a change in the way people think, feel and behave towards disability and disabled sports.
Speaking at the launch Ambassador Deborah Bronnert said:
"United Kingdom's goodwill for the Zimbabwean people brings me here today and I'm pleased to say that we have been able to assist Nzeve Centre for the Deaf realize its dream of having a basketball court, constructed according to Paralympic standards. This project is particularly special to us as it supports the development of a Paralympic discipline here at the school."
The fund has so far achieved the construction of a tennis court at King George VI in Bulawayo, the renovation of a swimming pool at St Giles Rehabilitation Centre and the construction of another basketball court that is underway at Henry Murray School for the disabled in Masvingo.
Published 28 June 2013