Olympic hockey pitch unveiled
Hugh Robertson joins leading sports figures to see the state of the art venue in action.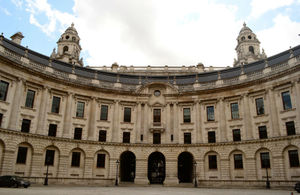 Sport and Olympics Minister Hugh Robertson was at the Olympic Park today unveiling the hockey centre pitch.
The Minister along with CEO of Great Britain Hockey Sally Munday and LOCOG's Head of Sport Competition David Luckes watched a training session for the Great Britain women's Hockey squad on the newly-completed, distinctive blue and pink pitch.
The colours were selected to make the yellow ball easier for spectators to follow both in the stadium and on television.
The pitch will also be used to hold the five-a-side and seven-a-side Paralympic football competitions.
Perfect pitch
 "The pitch's striking colour scheme has been designed to maximise the spectator experience and the surface has been given the thumbs up by our elite hockey players," said Robertson. "I'm sure we're going to see some real drama on here during the Games next year."
Once the Games have come to an end, the pitch is set to be dismantled and moved to Eton Manor in the north of the Olympic Park.
Further information
Published 19 August 2012