Olympic Hockey Centre pitch unveiled
Sports and Olympics Minister, Hugh Robertson helped to unveil the Olympic Hockey Centre.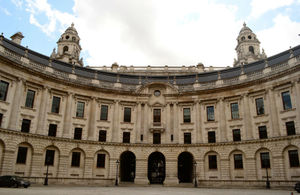 Sports and Olympics Minister, Hugh Robertson, went to see the Great Britain women's hockey squad in training today as he helped to unveil the The blue and pink pitch will be used with a yellow ball during the Hockey competition for the first ever time at an Olympic Games.
The Hockey Centre in the Olympic Park will host over 780,000 spectators during London 2012 staging both Olympic Hockey and Paralympic 5 and 7-a-side football competitions.  The Great Britain women's hockey squad got the chance to train on the water-based pitch, allowing them a taste of what to expect next year.
The main competition pitch is now complete and will be used for Olympic Hockey and 7 a-side Paralymic Football.  The Hockey warm-up pitch which doubles up as the 5 a-side Paralympic Football competition pitch is due to be completed in early November. The erection of the stands and infrastructure will follow in early 2012.
Minister for Sport and Olympics Hugh Robertson said: "The pitch's striking colour scheme has been designed to maximise the spectator experience and the surface has been given the thumbs up by our elite hockey players," I'm sure we're going to see some real drama on here during the Games next year."
This will be the first time Olympic Hockey and Paralympic Football are played on a different colour pitch to the traditional green. The move to blue pitches will provide high levels of contrast with the yellow ball and white lines for players, officials, spectators, photographers and broadcasters.
The Hockey Centre is a temporary stadium based at the northern end of the Olympic Park.  The centre will be the only full outdoor venue with seating for 16,000 spectators who will enjoy stunning views south across the Olympic Park. 
The complex includes two pitches, one for competition and one for warm up. The main pitch will stage all of the 76 hockey matches which will be spread over 14 days of competition from 29 July to 11 August. There will be over 380 competitors from 24 teams competing in the men's and women's competitions.
After the Games, the temporary arena will be dismantled and elements will be moved to Eton Manor in the north of the Olympic Park which will offer multi-purpose sport and leisure facilities including two hockey competition pitches.
Further information
Press Enquiries: 020 7211 2210
Out of hours telephone pager no: 07699 751153
Public Enquiries: 020 7211 6000
Published 28 October 2011