Olympic flats pass 2,012 milestone
Culture Secretary hails building progress in the Olympic Village.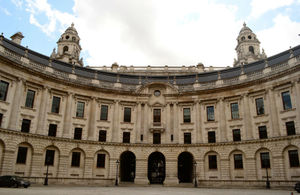 Jeremy Hunt today said the completion of 2,012 flats is a great step to ensuring a lasting legacy is created from hosting the Olympic and Paralympic Games next summer.
During a visit to the Olympic Village today, the Minister said: "The Olympic Village looks fantastic and you can just imagine the energy it will have when 17,000 athletes and staff move in here next summer for the Olympic Games. But what is most important about the Village is that it will be a real legacy from London's Games, by providing affordable and private housing after 2012. It is yet another example of how we continue to deliver on our promise to leave behind real and lasting benefits from London 2012."
The Olympic Village lies next to the Olympic Park and will house around 17,000 Olympic and 6,000 Paralympic athletes and officials during the Games, as well as providing shops, restaurants, medical, media and leisure facilities, and large areas of open space.
After the Games, the apartments will be adapted for permanent use as part of a lasting legacy being created in east London. The Village, comprising 2,818 new homes across 11 individually designed plots, will become a new and complete London neighbourhood offering homes that will be affordable and privately rented or owned. Community facilities, newly created parklands and some of the best transport connections in the capital will help deliver this sustainable and thriving neighbourhood.
Dennis Hone, chief executive of the Olymic Delivery Authority, said: "The construction of the Village is on track to be completed early next year. This is a unique development which combines and integrates private and affordable housing of the highest quality. It represents one of the strongest legacies of the Games, building a new community that will enhance our capital city and the lives of its people in the decades ahead."
Further information
Published 26 October 2011