Olympic Flame in Northern Ireland
The Secretary of State the Rt Hon Owen Paterson MP welcomes the arrival of the Olympic Torch in Northern Ireland.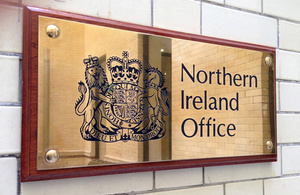 The Olympic Torch will be a "tremendous showcase" for the people, places and businesses of Northern Ireland, and will celebrate the role that Northern Ireland is playing in London 2012, Owen Paterson, Secretary of State for Northern Ireland said today.
As he prepared to welcome the arrival of the flame from the Isle of Man, Mr Paterson said:
The next few days are Northern Ireland's moment to shine. The torch will shine a light on many of our most scenic areas and iconic landmarks. I am confident that people throughout Northern Ireland will turn out in their thousands to show their support for the torch, the Games and to celebrate our role in making them happen.
The people of Northern Ireland have always shown tremendous support for London 2012. The torch is touring all over Northern Ireland and it's our chance to demonstrte that this truly is a Games for the whole of the UK. We can also celebrate the contribution Northern Ireland is making, with companies in Northern Ireland winning London 2012 contracts worth over £40 million - from building the Central Park Bridge on the Olympic Park to supplying metal for the Olympic Stadium".
Published 2 June 2012