News story
Olympic designer Stella McCartney and James Bond Producer Michael G. Wilson lead creative charge at British Business Embassy
Fashion designer Stella McCartney, who designed Team GB's performance kit, and James Bond producer Michael G. Wilson OBE will be among those…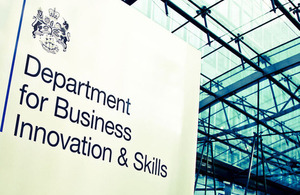 Fashion designer Stella McCartney, who designed Team GB's performance kit, and James Bond producer Michael G. Wilson OBE will be among those showcasing the UK's creative talent to international businesses today, as the focus at the British Business Embassy shifts to fashion, films, television, publishing and games.
As Creative Content Day gets underway, firms announced deals that could bring in up to £82.5m of investment and create at least 35 jobs, and UK Trade & Investment announced a new strategic partnership worth £400,000 to support the British film industry.
Meanwhile, Creative England announced a national business development fund of up to £1 million, part of a £5 million allocation from BIS's Regional Growth Fund, to support creative and digital businesses across England.
The Creative Content Day, one of 18 events being organised by UK Trade & Investment over the Olympic and Paralympic Games, brings together 280 UK and international businesspeople to discuss new business opportunities, forge new partnerships and learn from successful individuals and enterprises.
Minister for Culture, Communications and Creative Industries Ed Vaizey said:
"The UK has one of the strongest creative content sectors in the world: we export more TV formats than any other country; we have the world's third largest film industry; we are Europe's largest games developer and we are one of only four countries publishing more than 100,000 titles every year.
"This means that the UK is well placed to grasp the enormous potential for growth presented by the digital age. New technology is providing people with far more ways to access and consume content when and where they want, and the UK's creative content producers have never had greater opportunity to grow into new markets and directly reach new customers with the content they produce."
Stella McCartney will speak about the 'Business of Fashion'; actor Rupert Grint, who starred as Ron Weasley, will take part in a panel looking at the secrets behind the success of the Harry Potter films, which also includes Producer David Heyman; and Michael Morpurgo, whose book War Horse was made into an award-winning play, and a film by director Stephen Spielberg, will discuss the role of writers as creative catalysts.
Other speakers include Julian Fellowes, writer of television drama Downton Abbey, _and Steven Moffat, writer of television series _Sherlock, both of which have been sold to over 200 territories. Television formats will be also discussed, including shows such as Dancing with the Stars, Masterchef and Undercover Boss.
From the film world, there will be a session involving Eric Fellner CBE and Tim Bevan CBE, co-chairmen of Working Title Films; James Bond producer Michael G. Wilson OBE; and Ivan Dunleavy, Chief Executive of Pinewood Shepperton.
Tomorrow, the Aston Martin DB5, as used in the film Goldfinger, will be among the exhibits on display at the Embassy during the day. (Note: photographs of the Aston Martin are available here).
The summit will also focus on the UK's games and music industries, with participation from Ian Livingston OBE, the co-founder of Games Workshop; Sir Howard Stringer, Chairman of Sony Corp; and Daniel Ek, from Spotify.
The events come as Creative England announces a £1 million national development fund, supported by the Department for Business, Innovation and Skills' (BIS) Regional Growth Fund, to help creative and digital businesses across the English regions. The fund, which can be used by British and overseas investors looking to establish UK development sites, will support small to medium-sized companies looking to develop new software, applications and content for markets including healthcare, e-learning and mobile applications. More information can be found at www.creativeengland.co.uk.
And UK Trade & Investment (UKTI) announces a strategic partnership with Film London today to support the British Film Commission (BFC). This will provide an additional £400,000 over two years to the BFC's budget and enable the commission to maximise its impact for the UK across the globe.
**UK-international business
**
International business announced today includes:
China Education Publishing & Media Group (CEPMG), the Chinese publishing firm that announced plans for a £1m investment at London Book Fair in April, is today announcing further expansion plans in the UK with a potential investment of up to £80m.
Neoglory Jewellery, the largest jewellery company in China, said today that it will invest £2.5 million over the next two years opening 10 more stores in the UK, creating 35 jobs. This will add to the four stores it has opened since 2010.
SEGA, the Tokyo-based multinational games producer is investing millions of pounds in one of its UK subsidiaries, The Creative Assembly, to open an additional development facility in Horsham and deliver four major products over the next four years. This investment will build on The Creative Assembly's growth of over 50% in the last two years. With the release of its widely-anticipated Total War: Rome 2™ and another game based on 20th Century Fox's famous Alien™ intellectual property, plus other as yet unannounced titles to be released over the next four years, The Creative Assembly will contribute hundreds of millions of pounds to the UK economy and create many new jobs.
Activision Blizzard, Inc. (headquartered in Santa Monica, California) - a worldwide online, PC, console, handheld and mobile game publisher - has chosen to set up its new mobile studio in Leeds in order to attract some of the world's top handheld and console game development talent, which resides in the UK. The investment in the new Leeds studio facility is part of a multi-million pound investment programme in the UK for Activision, with the objective of driving continued growth and expansion over the next few years. The Leeds studio will have the opportunity to work on some of the world's most successful game franchises and be a great example of how the interactive entertainment industry can continue to evolve through smartphone and tablet games.
Notes to editors
**
1. **Factfile
The UK's fashion industry is worth £21 billion to the UK economy.
Films depicting the UK are responsible for attracting about one in ten overseas tourists, spending around £1.9 billion a year.
The Harry Potter movie franchise and the James Bond movie franchise recently were recently awarded the top two places in a list of the 10 most valuable movie franchises, with their ticket sales being put at $7.66 billion and $5.03 billion respectively. Source: Wall Street 24/7, quoting Box Office Mojo and IMDB sales data.
The UK music sector is estimated to be worth around £3.8 billion a year. UK artists accounted for almost 12 per cent of global music sales in 2010.
In the performing arts sector, the UK is home to major international festivals in Edinburgh and Chichester, as well as world-famous specialist venues in Stratford, Glyndebourne and Aldeburgh.
The UK is the world's greatest music consumer, buying more albums per head than anywhere else globally. The UK's consumption of music is reflected by its production, second only to the USA as a source of repertoire.
The UK has the second-largest publishing industry in Europe. The sector has a combined turnover of some £19 billion, employing around 243,800 people in almost 9,700 companies. Publishing companies are key players in the information age, as drivers of the e-economy.
The UK is one of the largest producers of computer games globally and home to many of the world's most successful games development studios. Some 95 per cent of UK games developers export at least some of their products.
UK Trade & Investment helped 2,700 firms in the creative industries sector in 2011.
On average, firms helped by UKTI, 90% of which are small and medium-sized, go on to win additional sales of £100,000 within 18 months.
2 The programme for all British Business Embassy events is at www.ukti.gov.uk
Watch all British Business Embassy sessions live http://www.youtube.com/user/UKTIWeb. You can also follow events live on Twitter @BritBizClub and join the conversation using hashtag #BritBizEmbassy."
UK Trade & Investment (UKTI) is the Government Department that helps UK-based companies succeed in the global economy. We also help overseas companies bring their high quality investment to the UK's economy - acknowledged as Europe's best place from which to succeed in global business. UKTI offers expertise and contacts through its extensive network of specialists in the UK, and in British embassies and other diplomatic offices around the world. We provide companies with the tools they require to be competitive on the world stage. For more information on UKTI, visit www.ukti.gov.uk or visit the online newsroom at www.ukti.gov.uk/media.
Notes to Editors
Contact Information
Name BIS Press Office Job Title
Division Department for Business, Innovation & Skills Phone
Fax
Mobile
Email bispress.releases@bis.gsi.gov.uk
Name Lucy Bell Job Title
Division Department for Business, Innovation and Skills Phone 020 7215 5361 Fax
Mobile
Email Lucy.Bell@bis.gsi.gov.uk
Published 31 July 2012