News story
OISC applicant convicted of providing unlawful immigration advice
Failed OISC applicant convicted of providing unlawful immigration advice sentenced to 26 weeks' imprisonment.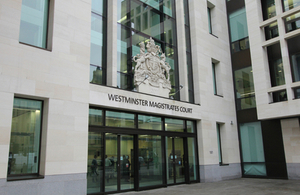 Mr Wisdom Abordo, 36, a Ghanaian national of Green Street, Enfield, North London, was today sentenced to 26 weeks' imprisonment. He was ordered to pay £1,300 compensation to 2 victims at Westminster Magistrates' Court, having pleaded guilty to providing unregulated immigration advice.
Mr Abordo applied to be regulated by the Immigration Services Commissioner in January 2014, but failed to demonstrate the required standard of competence.
Despite this, Mr Abordo traded as Alpha Legal Services, Petronne House, 31 Church Street, Dagenham between January and December 2014.
Upon sentencing, District Judge Mrs Coleman said:
"These are extremely serious offences. You set up a business to provide immigration advice when you were not qualified or competent to do so.
"The degree of culpability is high, as is the harm you have caused. You owe a considerable amount of money to individuals and have undermined the immigration system."
Speaking about the decision, Deputy Immigration Services Commissioner, Ian Leigh, said:
"Illegally providing immigration advice is a serious offence, and the sentence handed down today reflects this. Peddling illegal immigration advice ruins people's lives."
Published 7 October 2015