World news story
British Bulgarian Business Association official launch
From:

Part of:

Published:

13 January 2015
This was published under the 2010 to 2015 Conservative and Liberal Democrat coalition government
BBBA will stimulate and support business between Bulgaria and the United Kingdom.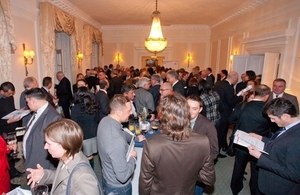 The British Bulgarian Business Association (BBBA) was formally launched at the Residence of the British Ambassador Jonathan Allen.
Among the attendees were some 180 potential members, and representatives of other Commercial Chambers both inside and outside of Bulgaria. The Deputy Minister of Regional Development Denitza Nikolova and the Deputy Minister of Economy Lyuben Petrov also took part and addressed the event.
BBBA – Central bank of information regarding bilateral trade and investment opportunities
The aim of the new organisation is to stimulate and support business between Bulgaria and the United Kingdom. It will achieve this through:
provision of a wide range of services to its members, both to those based in the UK, as well as to those looking to do business in the UK
development of capability to support any enquires from its members of a commercial nature
maintenance of a central bank of information allowing it to offer a full range of advisory services regarding trade and investment opportunities
undertaking a range of promotional activities aimed at raising the profile and awareness of bilateral trade between the 2 countries
providing networking opportunities for its members at regular formal and social events
BBBA is supported by the British Embassy and UKTI in Bulgaria
In welcoming the new organisation, the British Ambassador recognised the great deal of effort that had been undertaken in recent months to launch the new venture.
He stressed that BBBA would not be just another business club but would work very closely with the embassy and UK Trade and Investment (UKTI) organisation. This follows a model successfully rolled-out in other countries in the region.
Message from the BBBA Chairman
In replying, the Chairman of BBBA, Dr. David Hampson, thanked the Ambassador and his staff for their support and commitment to the launch.
He also stressed the high priority that the Board is giving to using the latest IT tools to extend the reach of the organisation – including state-of–the art mobile applications. He stressed the primary focus of BBBA is to support business, create business and develop business between the UK and Bulgaria.
Its mission is to serve UK companies and Bulgarian members. It will also seek the opportunity to work with other international business organisations in Bulgaria to support business friendly policies and opportunities.
BBBA contact details
Address: 9 Moskovska Str., Sofia 1000, Bulgaria
Email: info@bbba.bg
+359 878 777 333 – David Hampson, BBBA Chairman
+359 888 010 040 – Kristina Prodanova, BBBA project manager
Document information
Published: 13 January 2015