News story
Office of the Traffic Commissioner opening hours: Christmas and New Year
The Office of the Traffic Commissioner and Central Licensing Office will be closed at times during Christmas 2016 and New Year 2017.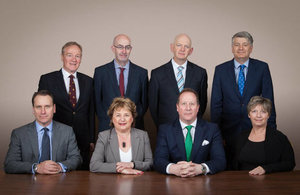 The OTC and CLO will operate a normal service up to and including Friday 23 December. The CLO will be open to the public until 4pm on Friday 30 December. The Offices of the Traffic Commissioner will be open until 2pm.
The DVSA Customer Support Team, which handles general enquiries about operator licensing, will be closed on Christmas Eve and on New Year's Eve.
Operators should note that the Vehicle Operator Licensing service, which includes the 'manage your licence' facility, will be available over the holiday period, however operator licence discs will not be issued when the Central Licensing Office is closed.
| Central Licensing Office | Opening hours |
| --- | --- |
| Monday 26 December | Closed |
| Tuesday 27 December | Closed |
| Wednesday 28 December | 8.30 to 4pm |
| Thursday 29 December | 8.30 to 4pm |
| Friday 30 December | 8.30 to 4pm |
| Monday 02 January | Closed |
| Tuesday 03 January | 8.30 to 4pm |
| Office of the Traffic Commissioner (all locations) | Opening hours |
| --- | --- |
| Monday 26 December | Closed |
| Tuesday 27 December | Closed |
| Wednesday 28 December | 09.30 to 4pm |
| Thursday 29 December | 09.30 to 4pm |
| Friday 30 December | 09.30 to 2pm |
| Monday 02 January | Closed |
| Tuesday 03 January (OTC Scotland will be closed) | 09.30 to 4pm |
Press enquiries
Media office
Office of the Traffic Commissioner
Suite 6
Stone Cross Place
Stone Cross Lane North
Golborne
Warrington
WA3 2SH
Published 20 December 2016