Press release
Office of the Public Guardian going digital
People will be able to use a simpler and quicker system to apply for their loved ones to legally manage their affairs.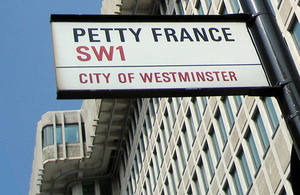 People will be able to use a simpler and quicker system to apply for their loved ones to legally manage their affairs under Government plans put out for consultation today.
A new secure online service for Lasting Powers of Attorney (LPA) would be created as a key part of the proposals to transform the services of the Office of the Public Guardian (OPG), which operates the scheme.
It would provide a quicker and simpler alternative for the public to the current paper-based system and will retain all the safeguards needed to protect people's interests. They would be able to use the service by themselves or, if they are not confident with the process, with the help of a third party - for example, a solicitor.
An LPA is a legal document which allows people to appoint someone else to make decisions about their welfare, money or property. They are often used by older people to choose someone they know and trust to make decisions for them were they to lose capacity in the future - but can be used by anyone at any age.
The proposals also involve moving the work of the OPG onto a new digital system.
Alan Eccles, the Public Guardian, said:
'More and more people are now taking the important decision to apply for Lasting Power of Attorney and we want to make sure we provide the best possible service for them - one that is simple, straightforward and effective.
'The proposed new online application process will make applying simpler and quicker, while the changes we plan to make in the 'back-office' will make the whole service more efficient.
'We now want to know views on our proposals; from the language we use in our application forms, to how we develop an online service for our customers.'
Justice Minister, Jonathan Djanogly, welcomed the consultation and said:
'These proposals aim to make a real and positive difference to people dealing with what can be an emotional and difficult process.
'It is another example of the smart, common sense changes being made throughout the justice system to create a better, more effective service for the public.'
The proposed changes are the latest stage of Government-wide work to use technology to provide better services, being led by the Cabinet Office's Government Digital Service.
Cabinet Office Minister Francis Maude said:
'The new Lasting Powers of Attorney online application process will be a leading example of Digital by Default, whereby the Government is digitising the services it offers to the public, making them quicker, simpler and faster to use. OPG is ensuring that all citizens can access and benefit from this new service by working with partners that help those who are not currently online.'
The consultation on the proposals will run until 19 October 2012. It seeks views on how the OPG can transform its business, including:
The forms and application process for Lasting Powers of Attorney
The language used to explain legal responsibilities
The role of certificate providers
The process for registering Lasting Powers of Attorney
The role of named persons
How confirmation is given that a Lasting Power of Attorney has been registered
The statutory waiting period for Lasting Powers of Attorney
Supervision of deputies
Changing security bond provider
Online payment of fees
Access to registers
Providing an 'Assisted Digital' service.
The full proposals can be viewed at: consult.justice.gov.uk/digital-communications/transforming-services-opg/
Notes to editors:
The number of people taking out Lasting Power of Attorney has increased significantly in recent years, with 152,335 registered in 2010/11 and 182,567 in 2011/12.
For more information about the Office of the Public Guardian, including forms and details about Lasting Power of Attorney, visit www.justice.gov.uk/about/opg
A video of Public Guardian Alan Eccles introducing the Transforming the Services of the Office of the Public Guardian consultation can be viewed at: www.youtube.com/watch?v=7MQX1vgXm2I&feature=em-share_video_user
For more information, please call the Ministry of Justice press office on 020 3334 3536. Follow us on twitter @MoJGovUK
Published 27 July 2012