Offenders to go full time on community payback
Offenders will be made to do a full five day week of hard work and job-seeking, under new proposals for community sentences.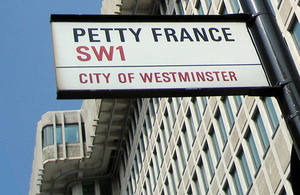 The work will include hard manual labour, improving public areas by clearing up litter, cleaning graffiti and maintaining parks and other green spaces.
The new instructions will see unemployed criminals forced to work a minimum of 28 hours over four days, with the fifth day spent looking for full time employment. Prior to today's announcement, Community Payback programmes could be spread out over 12 months with some offenders working for a minimum of just six hours per week. The new, more intensive scheme, will also be delivered more immediately after sentence, imposed on offenders within seven days of sentencing, instead of the two weeks it currently takes following the court appearance.
About 100,000 individuals are sentenced to Community Payback each year across England and Wales with over 8.8 million hours of unpaid work completed last year. The public can nominate jobs for offenders via direct.gov. Offenders can also be required to undertake hard manual labour such as working on a community farm, as in the attached case study.
These proposals for community sentencing are part of the Government's plans to reform sentencing and tackle the root causes of offending. As well as giving something back to communities affected by crime, they will help bring structure to offenders' lives. This will encourage them back into the routine of hard and meaningful work, in line with Government plans for Working Prisons for those who receive custodial sentences.
Minister for Prisons and Probation Crispin Blunt said:
'If you are unemployed and on Community Payback you shouldn't be sitting idle at home watching daytime television or hanging about with your mates on a street corner, you should be out paying back to your community through hard, honest work.
'The public want to see offenders giving something back to their communities, but they are rightly not satisfied with seeing only a handful of hours a week dished out. Decent, law-abiding people can work a full five day week and so should offenders.
'If we are to reduce the scandalous reoffending rates, it is essential that we help turn offenders into ex-offenders. The introduction of regular, meaningful hard work is proven to help break the cycle of crime and encourage a law-abiding life. This means fewer criminals, fewer victims of crime and much reduced costs for the taxpayer - a wholly positive result for society.'
Earlier this year the Ministry of Justice announced that Community Payback will be competed out to approved companies and probation trusts. The purpose of the competitions is to drive efficiencies in public protection and further help to cut re-offending.
This is one of a number of proposals to make community sentences more punitive. The Ministry of Justice recently confirmed that tagged offenders will be confined to their homes for up to 16 hours every day for a year.
Other measures being taken forward in the Legal Aid, Sentencing and Punishment of Offenders Bill include a review of Imprisonment for Public Protection sentences, with a view to replacing them with a tougher determinate sentencing regime and a greater use of life sentences. The Government is also looking to introduce a new offence of aggravated knife possession, with a mandatory prison sentence of at least six months.
Notes to editors
Please find details of a case study at Annex A.

The courts will continue to decide on the total number of hours of Community Payback an offender must complete; it is then for local Offender Managers to decide, based on an offender's circumstances, the number of hours they complete each week.

Read the Government's response to the Breaking the Cycle and Reform of Legal Aid consultations and the Legal Aid, Sentencing and Punishment of Offenders Bill

For any further information please contact the Ministry of Justice press office on 020 3334 3536.
Annex A - Case Study
Daniel, 32, Solihull
Daniel was sentenced to 120 hours of Community Payback after being convicted of assault in May 2010 and has gone from law-breaker to law-maker after being accepted to study at law school.
He carried out his sentence at Newlands Bishop Farm in Solihull. The project provides hard manual labour, including the construction of hen houses, putting-up buildings and fences, menagerie refurbishment, ground maintenance, forestry and hedge laying.
His probation officer John Whitehurst also helped him to enrol in an Access to Higher Education (HE) course which formed a small part of his unpaid work hours.
Daniel commented that his community sentence not only took away his liberty but allowed him to put something back into his local community.
He said:
'While it was hard at times, I didn't realise how much probation could help me. I'm delighted to be accepted at one of the country's best law schools and I'd like to thank everyone who helped me to get my life back on track.'
Published 24 August 2011