Offenders cook festive feast for the elderly
Offenders sentenced to Community Payback in Kent cooked a Christmas lunch with all the trimmings at a lunch club for the elderly.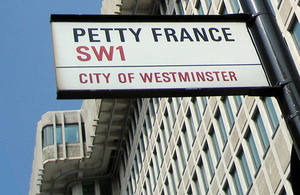 The lunch scheme is run all-year round by Kent Probation, with the help of charity Age UK, who provide the premises for the lunch club in Gravesend.
The scheme offers a vital service for old people in the area, giving them the chance to have a hot meal and socialise with others in their local community.
 
Supervised by Kent Probation, the offenders cooked a two-course Christmas meal for the club. They also washed the minibuses used to transport elderly people to and from the lunch, and tidied up the area around the centre.
Liz Simpson, Community Payback manager for North Kent, said:
'The offenders are providing a service that otherwise wouldn't be available. The scheme gives them a greater awareness of other peoples' needs and they're made to work hard.'
 
Charlie, one of the offenders working on the scheme, said:
'It's a worthwhile thing to do, I've learnt a lot.'
 
Gwen Smith, 89, who has been attending the lunch club for four years, said:
'It's lucky I'm able to come, it makes a lot of difference.'
Making sure offenders visibly pay back to the communities they damage is a key part of the Government's drive for tougher community sentences. The Government has set out plans to make them more intensive, with unemployed offenders forced to work a full five day week, including a day of job seeking.
Published 21 December 2011