World news story
OECD Ministers discuss 'Unlocking Investment' for Good Growth
Lord Maude, Minister for Trade and Investment, represents the UK at the OECD's annual Ministerial Council Meeting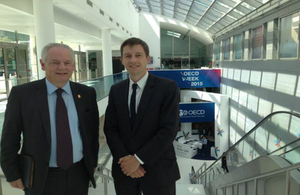 Lord Maude joined ministers from across the OECD's 34 member countries (as well as French President Hollande) in Paris last week for the Organisation's annual Ministerial Council Meeting. The two-day event focused on the critical role of investment in addressing growth, productivity, unemployment and sustainability challenges. OECD analysis increasingly advocates that governments implement balanced packages of structural reform, monetary policy and fiscal policies in an effort to support growth. Lord Maude, as UK Minister for Trade and Investment, highlighted the importance of using 2015's unprecedented sequence of major international processes on trade, climate and sustainable development to inspire positive action.
One such event is the 21st UN Conference of Parties (COP21) scheduled for December in Paris. At this critical meeting, world leaders will attempt to broker a deal to limit global warming to 2-degrees centigrade. The OECD is playing an important analytical role in the run-up to this conference. The Organisation has teamed up with International Energy Agency, the Nuclear Energy Agency and the International Transport Forum to produce a report on Aligning Policies for a Low-Carbon Economy. The report calls on countries to take urgent action to tackle the myriad of policy inconsistencies which hinder a joined-up approach to reducing climate change.
Ministers also highlighted the importance of the Financing for Development conference in Addis Ababa in July, and the need to support implementation of the Sustainable Development Goals (SDGs). Ministers felt that the OECD could best support the SDGs by helping to develop a methodology for measurement and monitoring; by working in partnership with multilaterals, institutions, and networks to foster mutual learning and produce and connect knowledge; and through support for resource mobilisation in developing countries.
After the meeting, Lord Maude spoke with UK Ambassador Bridge and reflected on a 'great couple of days'. As this year's record Ministerial turnout shows, the OECD's emphasis on structural reform, global standards and cross-country best practice continues to strike a chord with countries searching for effective and affordable policy responses to the crisis. In recent years the Organisation has led new policy debates on international tax evasion/avoidance, well-being, open markets, inequality and green growth.
The UK will continue to work with the OECD to maximise the Organisation's value to the UK and other members, and to ensure that it is at the leading edge of international organisation impact, efficiency and transparency.
Published 9 June 2015