World news story
OECD hosts a month of events in March to mark International Women's Day
OECD hosts March on Gender, a month of discussions and events focused on gender equality and policy in the context of International Women's Day 2016.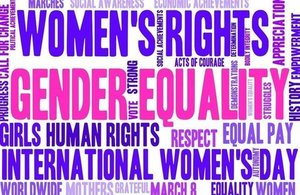 To mark International Women's Day on 8 March, the OECD held a series of events in March addressing existing barriers to gender equality. During its March on Gender, the OECD discussed leadership gender gaps in the public and corporate sectors, achieving gender equality through the Sustainable Development Goals, the underrepresentation of women in Science, Technology, Engineering and Mathematics (STEM) fields, and the impact of tax policies on women's economic participation.
"Women's access to leadership is as much a business issue as a women's issue." These comments from panellist Ben Rimmington (Director, Business Environment, Department for Business, Innovation & Skills) were made in the context of an OECD conference on improving women's participation in leadership positions to help promote inclusive growth. The conference also featured the launch of the 2015 OECD Recommendation of the Council on Gender Equality in Public Life, which has a key role in the OECD's Inclusive Growth Agenda.
Sustainable Development Goal 5, the stand-alone Goal for achieving gender equality and empowering all women and girls, formed the central theme of the OECD Development Centre's high-level event to commemorate International Women's Day. Participants discussed how to use the Goals to empower women and achieve gender equality by 2030, with key messages focusing on the importance of educating girls and women, reducing gender discrimination in social institutions to boost economic growth, integrating gender equality into climate change action and of improving data to tackle the root causes of gender inequality. The event also marked the 60th anniversary of the UN Commission on the Status of Women, which was held in New York on 14-24 March and attended by a UK Ministerial delegation which reinforced the UK's domestic and international commitment to empowering women and tackling violence against women and girls. The Rt Hon Nicky Morgan MP chaired a session on the gender pay gap, a key UK priority, which OECD Deputy Secretary-General Mari Kiviniemi also participated in.
In the context of the expanding digital economy, an OECD seminar also examined how to narrow the gender gap in education with a view to increasing women's representation in STEM fields, with a career choice in computing and engineering being particularly important. Implicit gender biases in tax systems were also highlighted during an OECD panel discussion on gender and taxation, where mainstreaming a gender equality perspective into general tax policy was encouraged. At a final event to round off the OECD's March on Gender, the importance of men's engagement in the gender equality debate was stressed during a discussion on the role that men can play in promoting gender balance within their organisations.
The OECD's March on Gender took place within the framework of the OECD Gender Initiative which examines existing barriers to gender equality in education, employment and entrepreneurship.
Published 22 April 2016