OECD Employment Ministers discuss building more resilient and inclusive labour markets
Priti Patel MP, Secretary for State for Employment, represented the UK at the OECD Employment Ministerial.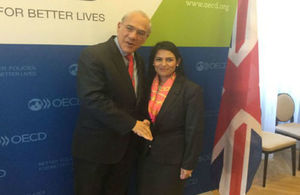 Ministers from over 40 countries gathered at the OECD on the 14-15 January for the Employment Ministerial Meeting and Policy Forum on the Future of Work. The OECD Headquarters provided a forum for the exchange of ideas on building more inclusive and resilient labour markets. With over 40 million people unemployed across the OECD, almost 8 million more than pre crisis levels, the Ministerial provided an opportunity to share experiences on how governments can respond to the economic crisis and adapt labour markets. Minister Patel took the opportunity to meet with Secretary General Angel Gurria to discuss the UK's activity in the field of employment.
With employment at an all-time high and with high levels of job creation, the UK has a valuable story to share on labour market conditions. The flexibility of the UK labour market was an important factor in preventing large scale job losses during the economic downturn and Minister Patel shared the UK's experience and perspective on how a joined up approach of effective government regulation and empowering employers has provided a platform for job growth.
Minister Patel outlined how the UK is committed to breaking barriers that prevent under-represented and vulnerable groups from full participation in the workforce. Recent initiatives include: the See Potential campaign that helps to identify hidden talent from those who have faced difficulties gaining employment, and the Fuller Working Lives Framework that looks at the retention, recruitment and retraining of employees aged 50 and above.
During the event, Ministers endorsed the OECD recommendations on Ageing and Employment and on Integrated Mental Health, Skills and Work Policy. These policy principles set out guidelines on how governments can address the challenges of aging populations and how the impact of mental health problems can affect health, education, employment and social outcomes.
All Ministers were able to contribute to a revised OECD jobs strategy that will reflect the lessons learned from the economic downturn as well as strategies to adapt to common policy challenges such as, rising inequality, the impact of technology, employment protection and changes in demographics. The future of work debate will continue to feature in 2016, playing a central theme at the upcoming World Economic Forum and at the OECD Ministerial Meeting on the Digital Economy in Cancun 21-23 June. The OECD's data and analysis will play a vital role in preparing the groundwork for these discussions and in partnership with the International Labour Organisation and other International Organisations, continue to provide a platform for international dialogue and co-operation.
UK Minister for Employment Priti Patel talked to us about the Future of Work
Published 23 February 2016