Press release
OCRS risk score changes take effect
Changes to Operator Compliance Risk Score (OCRS) system will help improve targetting of offenders.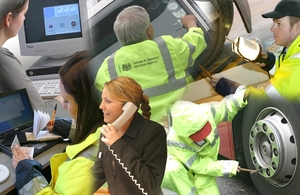 Changes to VOSA's OCRS system will take effect from 30 August 2010, following discussions with the industry.
The minor changes are being introduced to lessen the burden on compliant operators and allow VOSA to better target those with a higher risk of being non-compliant.
The changes mean that some operators will see a change in their OCRS banding after this date.
Those operators who are currently in the amber 8 band for roadworthiness or traffic enforcement will be moved into the red band.
At the same time those operators in the amber 1, 2 and 3 bands for traffic enforcement will be moved into the green band.
Operators' numerical index scores will not change, only the colour of the band associated with that score.
VOSA provides, free of charge, a weekly OCRS update service. To obtain your score, send an email to top.registrations@vosa.gov.uk.
When emailing, you must give your 'O' licence number, business name, address and email, contact name and confirmation that you are authorised to receive the information. VOSA will then send you a form for registration.
Vehicle encounter reports and test maintenance history reports will be sent to you by email and you will also be able to manage your operator's licence online.
Notes to editors
VOSA is responsible for:
processing applications for licences to operate lorries and buses and registering bus services
operating and administering testing schemes for all vehicles, including the supervision of the MOT testing scheme
enforcing the law on vehicles to ensure that they comply with legal standards and regulations
enforcing drivers' hours and licensing requirements
supporting Traffic Commissioners to help them make informed decisions on operator licensing, vocational drivers and bus registration requirements
providing training and advice for commercial operators
investigating vehicle accidents, defects and recalls
VOSA media enquiries
You should contact our press office if you have a media query or you're a journalist.
Published 23 August 2010