Press release
OBE for Ministry of Defence scientist
Recognition in the Queen's Birthday Honours for a Dstl scientist, for his work on chemical weapons demilitarisation.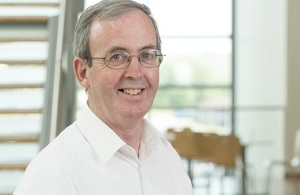 A Ministry of Defence (MOD) scientist, who has been supporting the destruction of Syria's chemical weapons, has been awarded an OBE in the Queen's Birthday Honours list 2015.
Dr James McGilly, who works at the Defence Science and Technology Laboratory (Dstl), is recognised by his international peers as a world-class expert in chemical arms control.
He is a key member of the UK delegation to the Organisation for the Prohibition of Chemical Weapons (OPCW) and played a vital role in the international community's work to verify the destruction of Syria's chemical weapons.
James, who lives in Salisbury, Wiltshire, has worked for Dstl and its predecessors for more than twenty years.
Dstl Group Leader Karen Baxter said:
I am delighted that James has been recognised with this OBE. He is a very worthy recipient whose knowledge and expertise has proved invaluable to the UK's technical contribution to the OPCW over the past 20 years.
Speaking of the award, James McGilly said:
I was surprised and delighted to receive this award, which reflects the contribution of the wider team. I have been privileged to work with a wide range of international experts over the years.
Published 13 June 2015