OBE for inspirational Sellafield leader
The Queen has awarded an OBE to Sellafield Ltd's Head of Legacy Ponds Dorothy Gradden for services to the nuclear industry.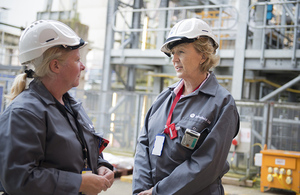 An inspirational role model at Sellafield Ltd has been awarded an OBE for services to the nuclear industry.
Dorothy Gradden, head of programme delivery for the legacy ponds, has been recognised in the latest Queen's Birthday Honours list.
Dorothy is in charge of decommissioning the two legacy fuel ponds at the Sellafield site, a programme that has taken huge strides forward under her watch.
Paul Foster, Sellafield Ltd's chief executive, said:
Dorothy is an exemplary leader. She plays a vitally important role at Sellafield, delivering technically challenging risk and hazard reduction while leading her team with passion and enthusiasm.

Dorothy is a role model for young people in engineering, and for all these reasons I'm delighted she has been recognised in this way.
Born in Anfield in Liverpool, Dorothy was brought up solely by her mum following her father's death.
The 55-year-old says her mum instilled key messages of encouragement in her, including:
Be the best that you can – it doesn't matter how well you do as long as you try your best.
Dorothy won a scholarship to the Belvedere GPDST private school, where her love for science grew, and she was inspired by her physics teacher.
She encouraged me to think about science as a career, maybe applied physics. I don't think anyone from my school had ever read engineering. Engineering really appealed to me as there were so many options and all had a really practical focus.
Having carried out decommissioning work at various nuclear sites in the UK, including Aldermaston, Dounreay, Harwell and Winfrith, Dorothy then set her sights on the opportunities available at Sellafield.
I have pretty much worked on projects for every nuclear site in the UK and a few abroad.
In December 2012, she became head of programme for Pile Fuel Storage Pond before working on First Generation Magnox Storage Pond in March 2015.
She now oversees them both as one project.
I really do feel that this is what my career has been all about. I have the best job on site, technically challenging, leading a large culture change programme and delivering risk and hazard reduction every day. It really is a privilege to do this job.
Published 20 June 2017