Press release
Oakington flooding - community event
The Environment Agency will be hosting an event at Oakington Sports Pavilion on Saturday (16 Aug) for residents affected by recent flooding.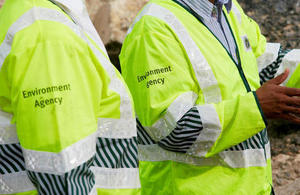 Peta Denham, Flood and Coastal Risk Manager for the Environment Agency said:
We had a community event planned for this Saturday to bring the community together to think about creating a flood plan and to get feedback on the project for flood protection for individual properties.

Because of the flooding over the weekend we will now be using this opportunity as a post flood community event.

We have heard reports of over 70 properties flooding, with residents raising issues around road drains and gullies, river flooding, drainage systems and general surface water inundation. We would like to use this opportunity to get the community to give us their reports of when, where and how flooding occurred and mark up maps.
The event will also be attended by other organisations with responsibility for flood risk management, including representatives of Cambridgeshire County Council and their Highways Department and South Cambs District Council. The contractors involved in the Property Level Flood Protection Scheme, Whitehouse Construction Ltd and JBA Consulting, will also be available - as will the National Flood Forum and parish councillors
Doors will be open between 10am and 2pm and all residents are encouraged to come along to share their evidence and experience of the flooding. The Environment Agency is keen to see photographs or videos which demonstrate water sources or levels.
The information will be used to improve understanding of flood risk in the area and to help the Environment Agency and Cambridge County Council, whom as Lead Local Flood Authority have responsibility for surface water, plan for the future.
Venue: Oakington Sports Pavilion, Unit 1 Queens Way, Oakington, CB24 3AW.
Published 13 August 2014