World news story
Nutrition Champion Awards 2013 – The winners
As leaders gathered in New York City for the UN General Assembly last week, three individuals were recognized for their transformative efforts to improve nutrition, health and opportunities for women and children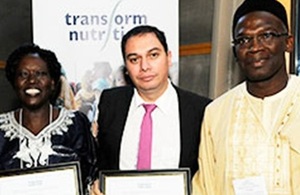 These 2013 Transform Nutrition Champion Award honorees, hailing from Guatemala, Kenya and Senegal, represent the breadth of action and investment that has helped to raise nutrition on the global agenda and drive progress in nations around the globe.
Transform Nutrition is a consortium of six international research and development partners, funded by UK aid from the UK government. Using research-based evidence we aim to inspire effective action to address undernutrition. Fourteen champions of nutrition were shortlisted from a large pool of nominations by a group of nutrition professionals. The three nominees selected to represent the 2013 class of Champions at the Scaling Up Nutrition (SUN) Movement's Global Gathering are:
Mr Luis Enrique Monterroso, Guatemala
Mr Banda Ndiaye, Senegal
Ms Terry Wefwafwa, Kenya
The awards were presented during the Scaling Up Nutrition (SUN) Movement's Global Gathering. Since its inception in 2010, the SUN Movement has used the annual UN General Assembly as an opportunity to bring together the national leaders and global stakeholders committed to alleviating malnutrition. This year's gathering brought participants together from across the globe and created an opportunity for in-depth discussion, sharing and learning that aligns with the Movement's overall goals—putting countries in the lead and pulling a global community together in support of one collective goal: to alleviate malnutrition in all its forms.
To mark the award, David McNaught, Chargé d'Affaires at the British Embassy in Guatemala said: "I am delighted that Guatemala's commitment to nutrition has been recognised and Luis Enrique Monterroso named a nutrition champion. Tackling child malnutrition is a priority of the UK's G8 Presidency this year, and Guatemala's Vice President took part in an event in June in London to take this forward. Suce then we have been supporting SESAN implement the Hunger Zero Compact"
Published 30 September 2013