Nuclear meeting to take place in Edinburgh
The Foreign Office and the Comprehensive Nuclear Test Ban Treaty Organisation will co-host a meeting on improving the international community's ability to detect underground nuclear weapons tests.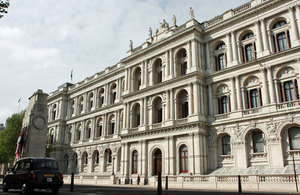 Taking place on 9-11 November in Edinburgh Castle, the meeting will help build up the Treaty's verification regime so that it can in future detect all nuclear weapons tests and will involve experts from the UK, China, France, the Russian Federation, and the United States, as well as the Comprehensive Nuclear Test Ban Treaty Organistation (CTBTO).
Speaking about the event, the Minister for Counter Proliferation Alistair Burt said:
"Putting in place a legally binding ban on all nuclear weapon test explosions will be a key building block towards our long term goal of a world without nuclear weapons. Promoting the Entry into Force of the CTBT is one of the UK's key disarmament and non-proliferation priorities.
"Experts this week in Edinburgh will discuss technical methods of carrying out inspections to determine whether a nuclear weapon test explosion has taken place in violation of the Treaty. We strongly support the continued development of the CTBT Organisation's efforts to establish a strong verification regime in which the international community can have confidence. These technical exchanges between the five nuclear weapon states contribute to our wider cooperation on nuclear disarmament and non-proliferation, and are critical to building confidence and trust."
Published 8 November 2011