Nottingham to host Armed Forces Day 2013
It has been announced that Nottingham will host the Armed Forces Day National Event next year.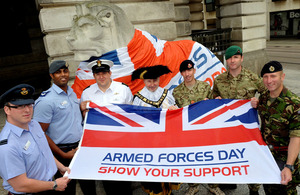 Armed Forces Day 2013 will take place on Saturday 29 June, and plans are already underway in Nottingham to stage a spectacular national event that will honour our Armed Forces past and present.
The Nottingham event will be the fifth annual event following the success of Plymouth, which hosted this year's Armed Forces Day, attended by some 60,000 people including the Earl of Wessex.
The first Armed Forces Day National Event was held at the Historic Dockyard in Chatham in 2009, and since then the popular occasion has become a firm favourite with the public for them to show their support for the Armed Forces in recognition of their outstanding contribution to the country. Subsequent national celebrations were held in Cardiff in 2010, and Edinburgh in 2011.
Armed Forces Day is part of a week-long programme of celebrations, usually taking place during the last week of June, with the national event held on the Saturday. On the Monday, cities, towns, villages and members of the public raise the Armed Forces Day flag to show their support. Later on in the week, thousands of men and women who make up the Reserve Forces proudly take part in 'Uniform to Work Day' to celebrate those people who give up their free time to serve their country.
There are many ways the public are encouraged to show their support on Armed Forces Day. These include holding a local event and supporting the campaign through the dedicated Armed Forces Day Facebook page that already has over one million 'likes' and on Twitter.
Armed Forces Day also has a wide range of celebrity supporters, including David Beckham, Lorraine Kelly, Sir David Jason, Lord Coe, Dame Kelly Holmes, Baroness Tanni Grey-Thompson, Gary Lineker and Barbara Windsor.
Councillor David Trimble, Portfolio Holder for Leisure, Culture and Tourism at Nottingham City Council, said:
We are proud to announce Nottingham has been chosen to host the Armed Forces Day flagship event in 2013 and we are working with partners to put together a first class programme of events.
This is the first time we will host the event and it is an honour to be able to celebrate our Armed Forces on a national stage. Our city and county have a proud military heritage and continue to support all of the country's veterans, cadets and serving military personnel.
Our Armed Forces past and present continue to work tirelessly for our country and we are privileged to be invited to put on a fantastic event which will be a tribute to all of those who have served, including the families, friends, communities and charities who support them.
Minister for Defence Personnel, Welfare and Veterans, Andrew Robathan, said:
Nottingham has a proud military history and I congratulate them on being chosen to host the next Armed Forces Day in June 2013. This occasion will see the culmination of public events throughout the United Kingdom celebrating the achievements and efforts of our personnel from across all three Services.
The success of the Olympics is just the latest example showcasing the adaptability of our Armed Forces and the reassurance that they bring to the public. At home and abroad, the men and women from the Royal Navy, Army and Royal Air Force deliver security and resilience for the benefit of us all and it is fitting that we show our support.
Brigadier Harry Nickerson, Commander of the Army's 49 Brigade, based at Chetwynd Barracks in Chilwell, Nottingham, said:
We are very grateful for the wonderful support that the people of Nottingham and Nottinghamshire show to our military personnel and their families. It means a great deal to us, so we are delighted that next year's Armed Forces Day National Event will take place here.
The day will provide the opportunity for members of the public to express their thanks to the military and veterans, and to find out more about what all three Services do.
For more information visit the My Nottingham and Armed Forces Day websites and the Armed Forces Day Facebook page - see Related Links.
Published 22 August 2012