Nottingham cheers home 2 MERCIAN from Afghanistan
Hundreds of people lined the streets of Nottingham and Derby last week to welcome home the soldiers of 2nd Battalion The Mercian Regiment (2 MERCIAN).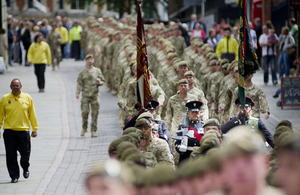 People hung out of office windows and shoppers stopped to greet the soldiers with applause and cheers of 'well done' and 'thank you' as they marched through the cities' streets to mark their return home from Afghanistan.
Prior to the first homecoming parade, in Nottingham, the battalion held a thanksgiving service at St Mary's Church to remember their fallen, including Captain Rupert Bowers and Private Matthew Haseldin who were killed in action during this latest, the battalion's fourth, tour of Afghanistan.
Following each parade the soldiers attended a civic reception that saw six soldiers from each city awarded their Op HERRICK campaign medals. Amongst those soldiers receiving their medals in Nottingham was Private Frazier Stretton.
Private Stretton took part in vehicle patrols securing Route 611 in Helmand province and he also patrolled with teams on the ground securing areas in the local villages.
He said:
It's been a great day. I enjoyed taking part in the parade and it was great to receive my medal in my home city.
The Commanding Officer of 2 MERCIAN, Lieutenant Colonel Colin Marks, said:
I am extremely proud of what we have achieved. Our soldiers worked tirelessly through sweltering heat to set the highest standards in every respect. It was a great privilege to take part in the homecoming parades.
It was a long hard-fought winter where every soldier stood firm with courage in the face of adversity, and I know that everyone of us was deeply grateful for the support that the public gave and at the same time intensely proud that we are finally home, having done a job to the best of our ability.
2 MERCIAN was deployed across the whole of Helmand province from the end of August 2011 to the end of April 2012. The battalion already had a distinguished record in Afghanistan when they deployed in September 2011 for their fourth Op HERRICK tour.
Their achievements over past tours have rendered them one of the most decorated battalions in the British Army, including five Conspicuous Gallantry Crosses and five Military Crosses for their services during Operation HERRICK.
Please tell us what you think about government news on the web by filling in the short survey at Related Links.
Published 4 July 2012