News story
Notice of re-appointments to the Parole Board
The Secretary of State for Justice has approved the appointment of the Parole Board members.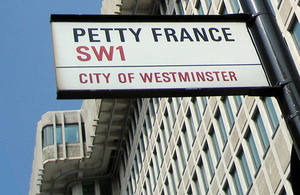 The appointment have been conducted in accordance with the Commissioner for Public Appointments' Code of Practice on appointments to Public Bodies.
The Parole Board is an independent body that works with its criminal justice partners to protect the public by risk assessing prisoners to decide whether they can be safely released into the community.
The Parole Board was established by the Criminal Justice Act 1967. It is an Executive Non Departmental Public Body sponsored by the MoJ.
Parole Board members are appointed by the Secretary of State under Schedule 19 of the Criminal Justice Act 2003. The appointments of independent and probation and specialist members are subject to the Code of Practice of the Office of the Commissioner for Public Appointments (OCPA). There are currently around 230 Parole Board members.
Ministers have approved, from 1 October 2012, respectively, the reappointment of 69 Parole Board members. Details of those reappointed and the duration of each reappointment are provided below.
Independent and probation members
Reappointed from 1 October 2012 to 30 September 2015
| | |
| --- | --- |
| Ms Margaret Blyth | Mr Michael Mulvany |
| Mr Nigel Bonson | Mr Glyn Oldfield |
| Mr John Chandler | Mr Cedric Pierce |
| Ms Andrea Cook | Mr Arthur Price-Jones |
| Mr Malcolm Davidson | Mr Peter Sampson |
| Miss Sue Davies | Dr Heather Scott |
| Mr Rick Evans | Mrs Susan Smith |
| Mrs Sian Flynn | Miss Carol Swaffer |
| Mr Matthew Henson | Ms Elana Tessler |
| Mrs Liz Housden | Mr Anthony Thake |
| Mr John Jackson | Miss Patricia Williamson |
| Ms Clare Mitchell | Ms Sarah Wilson |
Reappointed from 1 October 2012 to 30 September 2016
| | |
| --- | --- |
| Mr Graham Bull | Mr Peter Haynes |
| Miss Alison Clark | Mr Andrew Mimmack |
| Ms Kim Evans | Mrs Emma Pusill |
| Mr James Haines | Mr Alan Rayner |
| Mr Alan Harris | Mrs Denise White |
Reappointed from 1 October 2012 to 30 September 2017
| | |
| --- | --- |
| Mr Richard Baldwin | Mr Phillip Hughes |
| Mrs Glyn Hibberd | Mrs Heidi Leavesley |
| Ms Jane Christian | Mrs Brenda McAll-Kersting |
| Ms Joanna Evans | Mr David Mylan |
| Ms Lucy Gampell | Ms Celeste Myrie |
| Ms Veronica Griffiths-Pearson | Mrs Aruna Walsh |
Reappointed from 1 August 2013 to 30 September 2018
| | |
| --- | --- |
| Mr Paul Cavadino | Mr Peter Coltman |
| Mr Michael Crewe | Mr Geoff Crowe |
| Sir Stewart Eldon, KCMG OBE | Ms Sue Finn |
| Mr Michael Fox | Mr Kevin Green |
| Mr John Holt | Ms Jane Horwood |
| Ms Rebecca Hunt | Ms Assia King |
| Mr Mark Lacey | Mr Bryan McAlley |
| Mr Tom Millest | Mr Stephen Murphy |
| Mr Stephen Pepper | Mr Bernard Postles |
| Mr Andrew Purkis OBE | Mr Colin Reeve |
| Ms Jennifer Rogers | Ms Jean Sewell |
| Mr Nigel Stone | Mrs Rosemary Thompson |
| Ms Pamela Baldwin | Ms Annalise Elliott |
| Ms Jane Everitt | Ms Jennifer Portway |
| Ms Sally Rowen | Ms Jennie Sugden |
| Ms Kay Terry | Mr Alan Whiffin |
Reappointed from 1 September 2013 to 30 September 2017
| | |
| --- | --- |
| Mrs Laura Buckley | Mr Bruce Butler |
| Mr Ian Clewlow | Ms Sue Dale |
| Mr Simon Evans | Ms Pat Johnson |
| Ms Mary Kane | Mr Martin King |
| Mr Rob Mandley | Mr Bill Mayne |
| Ms Melanie Millar | Mr Jon Roberts |
| Mr Deep Sagar | Mr Adrian Walker-Smith |
Judicial members
Reappointed from 1 October 2012 to 30 September 2014
His Honour Mervyn Roberts
Reappointed from 1 October 2012 to 30 September 2015
| | |
| --- | --- |
| His Honour Fabyan Evans | His Honour Judge John Milmo QC |
| His Honour David Griffiths | His Honour John Samuels |
Reappointed from 1 October 2012 to 30 September 2016
| | |
| --- | --- |
| His Honour Judge Peter Birts QC | His Honour Martin Reynolds |
| His Honour Judge Stephen Powles |   |
Reappointed from 1 October 2012 to 30 September 2017
| | |
| --- | --- |
| Her Honour Judge Caroline Alton | His Honour Judge Alan Goldsack |
| His Honour Michael Brooke | His Honour Judge David Griffith-Jones |
| His Honour Tom Cracknell | His Honour Judge Kerry Macgill |
| His Honour Judge Simon Davis | His Honour Edward Slinger |
Reappointed from 28 February 2013 to 30 September 2015
| | |
| --- | --- |
| The Hon. Mr Justice Neil Butterfield | His Honour Judge Paul Dodgson |
| His Honour Peter Fingret |   |
Reappointed from 28 February 2013 to 30 September 2016
His Honour Judge Nicolas Webb
Reappointed from 28 February 2013 to 30 September 2017
| | |
| --- | --- |
| His Honour John Beashel DL | His Honour David Bryant |
| His Honour Gareth Cowling | His Honour Paul Focke |
| His Honour Judge Paul Worsley |   |
Reappointed from 28 February 2013 to 30 September 2018
| | |
| --- | --- |
| The Hon. Mr Justice Roderick Evans | His Honour Judge Martin Beddoe |
| His Honour Paul Collins CBE | Her Honour Judge Anna Guggenheim QC |
| His Honour Tony Hammond | Her Honour Judge Louise Kamill |
| His Honour Judge Roger Keen QC | His Honour Judge Shaun Lyons |
| His Honour Judge Bruce McIntyre | Her Honour Judge Anne Molyneux |
| His Honour Judge Michael O'Sullivan | His Honour Jeremy Roberts QC |
| His Honour Patrick Robertshaw | His Honour Judge Francis Sheridan |
| His Honour Leslie Spittle | His Honour Judge Christopher Ball QC |
| His Honour Judge Anthony Bate | His Honour Judge Christopher Metcalf |
| His Honour Judge Richard O'Rorke | His Honour Judge Robin Onions |
| His Honour Tony Mitchell | His Honour Judge Anthony Rumbelow QC |
| His Honour Judge Tudor Owen | His Honour Judge Alan Pardoe QC |
| His Honour Judge Phillip Richards | His Honour Martin Stephens QC |
| His Honour Graham White | His Honour Judge Jeremy Carey |
| His Honour Judge Graham Cottle | His Honour Judge Roderick Henderson |
| His Honour Judge Stephen Holt | His Honour Judge Mark Horton |
| His Honour Judge Clive Million | His Honour Judge Scott Wolstenholme |
Specialist members
Reappointed from 1 October 2012 to 30 September 2016
| | |
| --- | --- |
| Dr Dawn Black | Dr Caroline Friendship |
| Dr Derek Chiswick | Professor John Gunn |
| Dr Rosemarie Cope | Dr Sukhinder Lally |
| Dr Paul Courtney |   |
Probation members
Reappointed from 1 August 2013 to 30 September 2018
| | |
| --- | --- |
| Ms Victoria Doughty | Ms Margaret Dunne |
| Ms Freda Parker-Leehane | Ms Sue Power |
Psychiatrist and psychology members
Reappointed from 1 August 2013 to 30 September 2018
| | |
| --- | --- |
| Dr Rafiq Memon | Dr Kajal Patel |
| Dr Mike Isweran | Ms Joanne Lackenby |
| Ms Helen Trinder | Dr Roisin Hall |
Reappointed from 1 September 2013 to 30 September 2017
| | |
| --- | --- |
| Dr Caryl Morgan | Dr Subhinder Shergill |
| Dr Mary Walsh | Miss Louise Coates |
Published 11 October 2013