World news story
'Not simply an Option'. Mari Kiviniemi on Gender Equality
Ahead of International Women's Day, OECD Deputy Secretary General, Mari Kiviniemi, answers our questions on fighting gender inequality.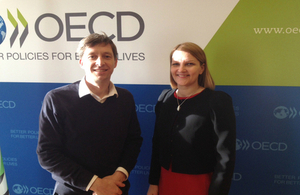 Ms Kiviniemi, you have had a remarkable career in public service prior to becoming Deputy Secretary General at the OECD. This has included positions as a member of the Finnish Parliament and as Prime Minister of Finland from 2010 to 2011. The UK's theme for International Women's Day 2015 is 'women achieving their potential'. What do you think holds women back from achieving their potential and what would be your one piece of advice to a woman with leadership aspirations?
"There are a number of obstacles which may prevent women from achieving their full potential. They often face higher expectations than men and their knowledge and expertise are not always trusted to the same extent. There is also often a lack of a positive role model for women in leading positions, public figures they could identify with, as well as comprehensive networks.
Lack of sound social services is also another factor which may make women´s leadership aspirations more difficult to fulfil. Only a few countries in the world have established comprehensive day-care services, or have equal family and parental leave systems for both mothers and fathers. Women also continue to bear more responsibility than men for the unpaid work performed at home and if we do not have equality in our homes, achieving equality in working life is unlikely.
When improving gender equality, it is of utmost importance that the whole of society works for it. But it is also essential that we, women, make our demands and put our foot down decisively. For example, women need to find the courage to ask for a better starting salary and greater pay rises. A survey conducted a few years ago by the Finnish Association of Business School Graduates indicated that female economists ask for 500 euros less in starting salary than their male counterparts.
My piece of advice to a woman with leadership aspirations would be, first, to do your homework. Train and educate yourself enough and be ready to work hard. Second, don't hesitate to take risks. It is often needed if you want to achieve something. Remember also that it is ok to fail, and that you can learn a lot from your mistakes. Third, be resilient. You may have to wait for the right timing to be able to achieve what you want."
This year marks the 20th anniversary of the Beijing Declaration (Beijing+20) which established a road map to promote and protect women's rights. How do you view the progress made over the last two decades? What work still needs to be done? And what developments in gender equality do you hope to see 20 years from now?
"Gender equality is a global challenge. Governments across the world have implemented a range of innovations to advance gender equality, including over the last two decades, but significant gaps continue to exist. In some countries, the situation has even deteriorated, a sad reminder that nothing should be taken for granted in this fight.
Political leaders have the responsibility to address this critical social, economic and human rights challenge. This can be supported by more legislation to ensure equality and non-discrimination, along with determined efforts to influence society as a whole. We must educate and influence people from early childhood and through comprehensive school programs, to understand the essence and importance of gender equality. This allows us to overcome attitudes and traditions that are often stronger than any legislation. Stronger international cooperation can also help. Legally binding regional agreements should enable us to strengthen and promote the development of equality globally, and make sure that the wheel keeps on rolling. Overall, it is absolutely crucial to avoid any form of complacency. Equality is not simply an option: it has to be achieved and efforts must not stop until it is so.
20 years from now, the number one priority would be to encourage women to participate fully in all areas of the society, particularly in working life. One of the key objectives is equal pay. In my country Finland, women have achieved a lot but the pay gap remains very significant."
Women still remain underrepresented in certain male dominated sectors such as engineering and the physical sciences. Why do you think this is the case and what policy measures could countries implement to encourage more girls and women into these fields?
"On the 5th March, the OECD published a very interesting report titled The ABC of Gender Equality in Education: Aptitude, Behaviour and Confidence, which specifically looks at gender bias in both educational and professional sectors, and proposes some ideas to overcome what one could call a cliché. Indeed, girls and boys remain deeply divided in career choices, which are being made much earlier than commonly thought. A few figures as an illustration: in all countries, girls outperform boys in reading, whereas in 6 out of 10 countries, boys continue to perform better in mathematics than their female peers. But it's not only about children's performances, it's also about attitudes. Girls, even high achievers, lack confidence in mathematics, and 2 in 3 (vs 1 in 2 for boys) report often worrying that it will be difficult for them in mathematics classes. Although girls' attitudes vary hugely between countries, it shows different approaches.
Parents also hold their part of responsibility and generally expect boys rather than girls to work in a science, technology, engineering or mathematics field. To correct this situation and narrow gender gaps in education, extensive - and expensive - education reforms are not needed. Parents can give their sons and daughters equal support and encouragement for all of their school work and aspirations for their future. Teachers can help by becoming more aware of their own gender biases that may affect how they award marks to students. They could also receive additional training in how to provide extra support to socio-economically disadvantaged students."
What do you think is the single most damaging consequence of gender inequality?
"Gender inequality, by definition, encompasses a large number of domains. In many countries women may even fear for their lives because they are women. Domestic violence against women remains a huge issue and can happen everywhere, no matter the level of development of the country.
But apart from those dramatic consequences that everybody should fight with all their strength, gender inequality implies the most unfair and damaging consequence of all. How can a country not use the potential of more than half of its population? What a waste of talents and energies! How can a country leave its women behind?"
Finally, could you tell us how the OECD is working to advance research and evidence-based policy making on gender equality in 2015?
"Empowering women and fully leveraging their skills and leadership in the global economy, in politics and in society are essential to maximising a nation's competitiveness, since diverse leadership is more likely to find innovative solutions to foster inclusive growth. At the OECD, we are working to advance the global debate on gender equality and to support the needed political leadership in taking the equality agenda forward. Gender balance is part of a forward-looking and evidence-driven contribution to the OECD trust and inclusive growth agenda and helps advance OECD work on New Approaches to Economic Challenges. It can also support the G20 agenda on gender equality.
Looking ahead, and drawing from the 2013 'OECD Council Recommendation on Gender Equality in Education, Employment and Entrepreneurship', the OECD is working to develop a draft 'Recommendation on Gender Equality in Public Life'. It will provide more detailed guidance to policy makers in closing remaining gender gaps in public life through strengthening public governance dimensions of gender equality, developing more gender-sensitive public policies and ensuring equal access to opportunities in public life.
2015 could, therefore, provide another powerful tool for policy making in favour of more gender equality."
Published 6 March 2015