News story
Northwest Regional Development Agency Non-Executive Directors to continue Board serve
Cllr Anthony McDermot MBE, Cllr Susan Williams, Prof. John Brooks, Peter Allen MBE, Joe Dwek CBE and Cllr John Merry CBE will serve from the…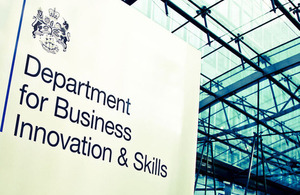 Cllr Anthony McDermot MBE, Cllr Susan Williams, Prof. John Brooks, Peter Allen MBE, Joe Dwek CBE and Cllr John Merry CBE will serve from the 14 December 2010 until the RDA closes. The Minister also announced continued terms from July 2011 until NWDAs closure to Peter Hensman.
Mark Prisk said:
---
"As we move toward a new framework for our regional economies, it is important that the development agencies are equipped with the leadership to ensure the transition period is a smooth one.
"The skills and experience of these board members will be a valuable asset during this time and I hope they will continue to work with us to ensure an efficient evolutionary process."
Robert Hough, NWDA Chairman, said:
"The extensive knowledge and experience of the NWDA Board has been invaluable throughout the economic downturn, so I'm very pleased to welcome these reappointments.
"Our Board members' understanding of the Northwest economy will be hugely beneficial in continuing to support economic recovery and help to assist Government's objectives for the future of economic development."
Notes to Editors
Regional Development Agency non-executive Board member posts
attract a remuneration of £8,666 per year for a minimum time commitment of two days per month.
The continued terms for Cllr Anthony McDermott, Cllr Susan Williams, Prof. John Brooks, Peter Allen, Joe Dwek, Cllr John Merry and Peter Hensman are up until the RDA closes. Final closure of RDAs is likely to be completed by 31 March 2012 following legislation.

RDAs are business-led organisations, promoting and co-ordinating
economic growth and development, enterprise and regeneration.
The Coalition Government has made the decision to support the
creation of local enterprise partnerships to replace RDAs. On that basis the decision was made not to continue with further Board member recruitment. The continued terms of Board members are necessary to ensure that the RDA Chairs are able effectively to manage their Board membership up until closure, and that membership does not fall below the minimum requirement of eight, as stated in the Regional Development Agencies Act 1998.
The original appointments were made following open competition in
accordance with the requirement set down in the Commissioner for Public Appointments Code of Practice. All appointments are made on merit and political activity plays no part in the selection process. However, in accordance with the original Nolan recommendations, there is a requirement for appointees' political activity (if any declared) to be made public.
Prof John Brooks and Peter Allen have not declared any political activity in the past five years. Anthony McDermott is a Labour Councillor for Halton Borough Council, Susan Williams is a Conservative Councillor and stood as a Parliamentary candidate in 2010 for Bolton West. John Merry is a Labour Councillor and Leader of Salford's ruling Group. Joe Dwek has made a recordable donation to a political party and has undertaken activity for both the Labour and Conservative party. Peter Hensman is involved in the Conservative party and is Treasurer for his local Branch.

Peter Allen is a Board member of Natural England which attracts a remuneration of £10-15k for a time commitment of 4 days a month. John Merry is on the Board of the Young Peoples Learning Agency which attracts a remuneration of £4k. Prof John Brooks, Susan Williams, Cllr Anthony McDermott, Joe Dwek and Peter Hensman do not hold any further non-executive ministerial public appointments.
Biographies:
---
Anthony McDermott **is a graduate of Manchester University Economics Faculty. He taught in school and colleges in Lancashire and Liverpool for 34 years. He was a member of Halton Borough Council since its start in 1974 and former Leader of the Council 1999 - 2010, following unitary reorganisation. He is currently a member of the Local Government Improvement Board, Urban Commission, and the Northern Way Transport Compact. Former Member of the NW Region Leaders' Forum, Liverpool City Region Cabinet and Chair of the North West Regional Assembly. He was awarded MBE in 2007 for services to local government in Cheshire. A supporter of Asbestos Victims' Support, and former member of NHS Mental Health Trust.**
---
Susan Williams **was a **nutritionist for the charity Action and Research into Multiple Sclerosis until 2001. Was Leader of Trafford Council from 2004 to 2009 and was part of the leadership of the sub region of Greater Manchester through the Association of Greater Manchester Authorities (AGMA). A member of AGMA's Commission for the new Economy Board and Salford URC.
John Brooks is the Vice Chancellor of Manchester Metropolitan University. In his previous job at the University of Wolverhampton he chaired a regeneration project after the closure of Rover, which involved infrastructure development and small business support. He chairs the Board of the Equality Challenge Unit, and is on the Boards of the Corridor Manchester (formally the Oxford Road Corridor Partnership) and the Universities & Colleges Employers Association.
---
Peter Allen is a Cumbrian hill farmer based near Penrith. As former Chair of the Sheepmeat and Goatmeat Advisory Committee to the EU, he has been involved in reforming and implementing the European sheep regime.
For many years was actively involved with the National Farmers' Union (NFU), representing farming and rural issues locally, regionally and nationally. Currently Chair of the NFU, Mutual Northern Area board, Chair of RUMA - (UK body promoting the Responsible Use of Medicines in Agriculture) and a board member of Natural England. Member of National Office of Animal Health Code of Practice Committee
__
Peter Hensman is a chartered accountant and engineer who spent most of his career in the general and financial management of manufacturing companies. Executive Director of a group of companies involved in tourism, leisure and property in Cumbria. Chairman of Cumbria Rural Enterprise Agency and the Kendal Futures Board, Vice Chairman of Furness Building Society and a Non-Executive Director of Northwest Business Link. Also a Trustee of Cumbria Community Foundation.
Joe Dwek was the Executive Chairman and Chief Executive of Bodycote International plc from 1972 until his retirement in 1998. Formerly Chairman of the North West CBI, Mersey Basin Campaign, Envirolink , ENWORKS, and the Healthy Waterways Trust. A former member of the Board of BIS's (Department for Business, Innovation & Skills) Environmental Innovation Advisory Group. Currently a member of the Assembly of Manchester University and Governor of Manchester High School for Girls. Director of Penmarric plc, Opal Property Group Ltd and Mercury Recycling Ltd. Also Co-Chairman Newlands. In 2008 was awarded the prestigious Environment Leadership award at the annual Business in the Environment Conference.
John Merry has been Leader of Salford City Council since May 2003. Lead Member on the Local Government Association Children and Young People Board and more recently the Young People Learning Agency. He is also a Board Member on the Greater Manchester's Commission for the New Economy. He has held various positions previously on organisations and committees with an education and training background. He has been a Councillor since 1990 with previous career experience in retail and sales. As a result of services to Local Government he was awarded the CBE in 2009
Notes to Editors
Contact Information
Name BIS Press Office Job Title
Division COI Phone
Fax
Mobile
Email NDS.BIS@coi.gsi.gov.uk
Published 26 July 2010