News story
Northern Ireland's aerospace sector cleared for take off
Projected global growth in civil passenger aviation an outstanding opportunity for NI's £1.6 billion aerospace sector and wider economy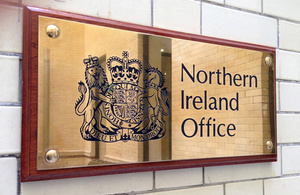 Projected global growth in civil passenger aviation presents an outstanding opportunity for Northern Ireland's £1.6 billion aerospace sector and wider economy, Secretary of State for Northern Ireland Theresa Villiers said today- Monday 11 July - during a visit to the Farnborough International Airshow.
The Secretary of State was at the Airshow for an intensive series of meetings with Northern Ireland manufacturers, including Bombardier, as well as multinational companies, such as Airbus, who buy Northern Ireland's outstanding aerospace products and services.
There are 60 firms in Northern Ireland whose cutting edge manufacturing and systems already produce structures, components and services for nearly every commercial aircraft programme in the world. Around a third of all airliner seats are made in Northern Ireland. The region is a global leader in survival technology. It is a solid runway for further growth.
Driven by a 4.7 per cent annual growth in air traffic and the need to replace ageing aircraft with more efficient, environmentally friendly designs, the next two decades will see a doubling of the number of large civil passenger aircraft in service.
Air traffic growth in Asia alone has the potential to add £4.7 billion in UK exports annually over the next 10 years, equating to 20,000 high value jobs across the country.
Secretary of State for Northern Ireland, the Rt Hon Theresa Villiers MP said:
Northern Ireland firms are well placed to make the most of the transformation underway in the international aerospace market. The UK Government, together with Invest NI, is committed to supporting them however we can.
Direct UK Government launch funding is available – and has already supported Bombardier's excellent C Series aircraft which makes its maiden commercial flight for Swiss International Air Lines this Friday. It is also important ministers bang the drum for the host of smaller Northern Ireland businesses who are competing with the rest of the world.
Success for such firms can mean jobs, growth and prosperity, driven by innovation, for Northern Ireland and the UK as a whole.
After a meeting with Airbus, the Secretary of State visited Northern Ireland SMEs including RLC Ltd, which manufactures components for Martin Baker ejector seats, to understand more about where they see growth opportunities and how the UK Government can help.
In an extended meeting with Bombardier, a major Belfast employer, the Secretary of State welcomed the recent overseas orders for the C Series aircraft and looked forward to the first commercial flight this week. She also reiterated the UK Government's support for research and development through a £1.9 billion fund until 2026.
Published 11 July 2016