Press release
Northern Ireland Office responds to the release of information by Department of Culture, Arts and Leisure
A spokesperson for the Northern Ireland Office said: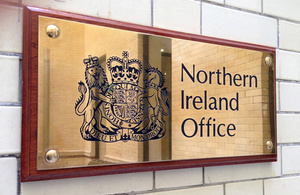 "The Secretary of State has a responsibility to ensure that risks relating to the release into the public domain of information originating from government are properly considered. As with any public authority, this includes an obligation under Article 2 of the ECHR to protect the right to life of those who might be affected by such a release.
"In this case the Secretary of State is of the view that the release of this information was in breach of her Article 2 obligations. This is due to the assessment by PSNI that individuals named would be at significant risk if the information was placed unaltered into the public domain.
"It is disappointing that the information was released without proper engagement about these concerns.
"It is hoped that all parties can reach agreement about how these decisions should be made and on the need to ensure that, when information is released into the public domain, it is done in a way that protects the relevant rights of all those with an interest."
Published 13 August 2013