News story
Northern Ireland Bill published
The Northern Ireland (Miscellaneous Provisions) Bill was announced in the Queen's Speech and published in full by Parliament on 10 May 2013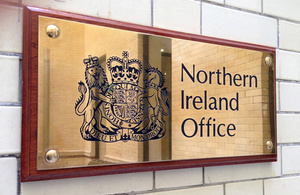 The Bill was announced in the Queen's Speech on 8 May and makes provision on the following issues:
Increasing transparency in donations and loans to NI political parties
Ending 'double-jobbing' by preventing Members of the NI Assembly (MLAs) from sitting concurrently as Members of the House of Commons, or as Teachta Dála (TDs) in Dáil Éireann
Changing the appointment and dismissal processes for the NI Justice Minister, to give the post greater security of tenure
Introducing five year fixed terms for the NI Assembly
Extending the length of the current Assembly term by one year to 2016, bringing Northern Ireland in line with Scotland and Wales
Improving the administration of elections in NI, in line with recommendations by the Electoral Commission and Chief Electoral Officer
Allowing the NI Assembly to reduce the number of MLAs, with the Secretary of State's consent
Providing for the potential devolution of functions in relation to the NI Civil Service Commission, NI Human Rights Commission and district electoral areas
The Secretary of State also published the Government's response to the NI Affairs Committee's pre-legislative scrutiny report on the draft NI Bill.
Theresa Villiers said:
The purpose of this Bill is to make some important technical reforms to improve how politics and the Assembly function. It is not about re-opening the Belfast Agreement or its successors.
I am immensely grateful to everyone who engaged with the pre-legislative scrutiny process and particularly to the NI Affairs Committee for its thorough analysis. We have carefully considered all of their recommendations and addressed them in the response I am publishing today.
I am pleased that we have been able to make some changes from the draft Bill, in line with the Committee's recommendations – in particular, ending dual mandates between the Assembly and the Dáil Éireann. Following further consideration, I am also including provision to extend the current Assembly term to 2016. This will bring Northern Ireland into line with the devolved administrations in Scotland and Wales and provide consistency over the current electoral cycle across the United Kingdom.
The progress of the Bill is now subject to the Parliamentary timetable.
Published 10 May 2013