News story
Northern Futures: Nick Clegg calls for decentralisation
Nick Clegg is calling for decentralisation and devolution for the North of England and inviting ideas through the Northern Futures project.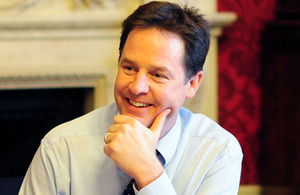 Later today (12 September 2014) he will speak at an event hosted by IPPR North in Sheffield, where he will set out his vision. The speech follows the launch of the Deputy Prime Minister's Northern Futures project in July – a call for ideas on ways to create an economic hub in the north of England.
The Northern Futures project is a new approach to policy-making. Rather than decisions just being made by politicians and civil servants in Whitehall, Nick Clegg is asking the people who live and work in the North to play a more active role and put forward their ideas.
The Deputy Prime Minister Nick Clegg is expected to say:
If ever there was a time to push for action on decentralisation, it's now.

You only need look at how the Scottish Referendum debate has re-energised people's interest and engagement in politics over the last few weeks to see that this is an idea whose time has come.

Over the last decades, we've seen a wave of new powers shifting out to every nation of the UK, except England.
To have your say on economic growth in the North, visit the Northern Futures project or follow @North_Futures on Twitter.
Published 12 September 2014