Press release
Northampton's flood warning sirens put to the test
A vital part of Northampton's flood warning system will be tested this week.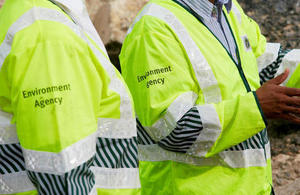 The Environment Agency will be sounding its 5 flood sirens between 10am and 12pm on Thursday (13 Nov).
Sirens, located in St James and Far Cotton, will be sounded separately and intermittently to make sure they will work properly during river flooding.
Claire Rose, Flood Resilience Team Leader, said:
The sirens are used to warn people in Northampton about flooding from the River Nene. We test them every year to make sure they are working effectively. We apologise for any disturbance but hope people understand that we need to be sure the sirens will work in a flooding emergency.
Anyone who hears the sirens between 10am and 12pm on the day of the test need not be alarmed or take action.
If the sirens are heard at any other time, people should ring Floodline on 0345 988 1188 or 0845 988 1188 for the latest situation and tune into local radio.
Environment Agency staff will be at the Asda supermarket in Far Cotton between 10am and 3pm on the day of the test to answer questions about the sirens and flooding in general. Information will be available on how to prepare for and respond to a flood and how to sign-up to the free flood warning service. An Environment Agency incident response vehicle will also be present.
Claire said:
We would encourage everyone living in Northampton to check whether they live somewhere that is at risk of flooding. If they do, they can register for our Floodline Warnings Direct service to receive free flood warnings that can be sent directly to them by phone, mobile, email or text. These messages will tell people what is happening, give them advice about what to do and keep them right up to date with the latest situation.
Northampton residents can check the flood risk where they live by logging onto https://www.gov.uk/floodsdestroy or by calling the 24-hour Floodline Warnings Direct service on 0345 988 1188 or 0845 988 1188.
For more information on how to prepare for flooding, or any other emergency, go to https://www.northamptonshire.gov.uk/emergencies
Published 13 November 2014