News story
North London shopkeeper fined for rotten fruit and vegetables offences
HMI investigation finds quality defects and labelling offences in fruit and veg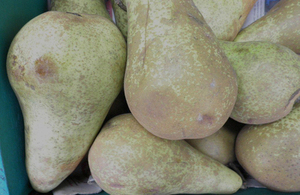 A North London shopkeeper has been fined for selling rotten fruit and vegetables following an investigation by the Horticultural Marketing Inspectorate (HMI).
Sadin Kilic, owner of Bin Diyar Ltd which trades under the name 'Hilal Supermarket' in Edmonton, North London, was sentenced at Tottenham Magistrates Court on 25 June 2015.
The HMI investigation found 9 regulated displays breaking the EU marketing rules. Of these, 3 failed to meet the lowest marketable quality permitted for both specific and general marketing standards (including rots in aubergines, pears and limes). 8 displays also failed to meet the statutory labelling requirements
Rural Payments Agency Operations Director Paul Caldwell said:
This case is another example of the work the Horticultural Marketing Inspectorate undertakes to protect consumers.

Prosecution is only used as a last resort and we will always try to gain statutory compliance with the marketing standard regulations through advice, guidance and instruction.

In this particular case, the prosecution followed a series of risk-based inspection visits to the shop over nearly 2 and a half years. Between August 2012 and November 2014, the store received 16 visits from inspectors where advice and guidance on compliance was offered. During this time Mr Kilic consistently failed to meet his statutory responsibility and failed to ensure that the quality and labelling of the fresh produce placed on offer for sale met the required minimum standards permitted.
Mr Kilic pleaded guilty to 8 of the 9 charges. The charge relating to the limes was dropped as Mr Kilic claimed they were not on offer for sale. He was fined £900 for the offences, £500 for the prosecution's costs and a £20 victim surcharge. In sentencing, the magistrates observed that this was something that had been going for many years, with multiple warnings that Mr Kilic had failed to rectify.
Background
Hilal Supermarket is located at 217 Fore Street, Edmonton, North East London, N18 2TZ.
The HMI is part of the Rural Payments Agency (RPA). The Inspectorate is responsible for the enforcement of the EU marketing standards for fresh fruit, vegetables, salad crops, nuts and cultivated mushroom, throughout England and Wales, wherever fresh produce is grown, imported, exported, bought or sold.
Published 3 July 2015