News story
North London man has manslaughter sentence doubled
The Court of Appeal has today doubled the prison sentence of James Richardson to a total of 12 years' imprisonment with an extension period of 5 years for the drunken, violent killing of his girlfriend, Natalia Czekaj.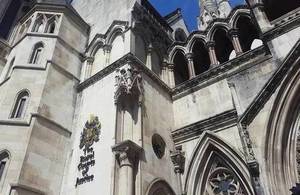 At the Old Bailey in September 2015, Richardson's guilty plea to manslaughter on the basis of diminished responsibility was accepted and he was subsequently sentenced to six years' imprisonment with an extension period of five years.
The Solicitor General, Robert Buckland QC MP referred that sentence to the Court of Appeal and speaking after today's hearing said:
"I referred the original sentence as I felt that it did not properly reflect the severity of the case. This was a sustained and violent knife attack on the deceased which involved her being stabbed in the back deeply enough to penetrate her heart and the offender sawing at her throat so severely that all the structures of her neck were severed.
"I hope this increased sentence gives some comfort to the victim's family."
Published 15 January 2016