News story
North Korean Ambassador summoned to Foreign and Commonwealth Office
The North Korean Ambassador was summoned by the PUS at the FCO following news of the launch of a satellite by North Korea earlier today.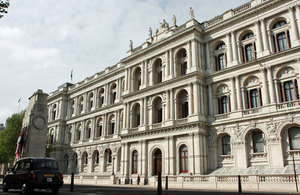 The Permanent Under Secretary, Simon Fraser, today summoned the Democratic People's Republic of Korea Ambassador in London, Mr Hyon Hak Bong, to the Foreign and Commonwealth Office.
Simon Fraser made clear to the Ambassador the UK's condemnation of the DPRK's actions. He stressed that the international community was united in their assessment that this launch, using ballistic missile technology, was a breach of UN Security Council Resolution 1874 and that it threatened regional stability.
He urged the DPRK to avoid further provocative action and take urgent steps to re-engage constructively with the international community.
Finally he pointed out that instead of expecting international aid and assistance the DPRK could have spent the money used on this launch to bring food and modernisation to its people.
Published 12 December 2012