Press release
North Korean Ambassador summoned over ballistic missile launch
Today, the North Korean Ambassador to the UK, Choe Il, was summoned to the Foreign and Commonwealth Office following a ballistic missile launch on 11 February 2017.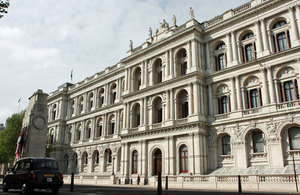 A Foreign Office spokeswoman said:
The UK fully supports the UN Security Council's strong condemnation of North Korea's recent ballistic missile launch. Today, in summoning the North Korean Ambassador, we have made clear that the actions of the Democratic People's Republic of Korea (DPRK) were in direct violation of multiple resolutions, are a threat to international security and that such dangerous and destabilising activity must stop.

We urge North Korea to stop its provocative actions, which threaten international peace and security, and instead re-engage with the international community, and take credible, concrete steps to prioritise the well-being of its own people instead of the nuclear and ballistic missile programmes. The Ambassador was asked to convey this message to Pyongyang in the strongest possible terms.
Further information
Follow the Foreign Office on twitter @foreignoffice
Follow the Foreign Office on facebook
Published 14 February 2017