News story
North Highland Regeneration Fund holds AGM
The North Highland Regeneration Fund (NHRF) held its Annual General Meeting on Friday 9 November 2012.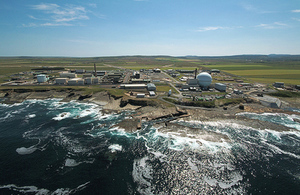 The fund was established by the Nuclear Decommissioning Authority to the tune of £1.8M to provide loan funding for small businesses.
This initiative is designed to pump-prime both the start-up of new ventures and the growth of existing businesses as part of the drive to replace the jobs that will be lost in the Caithness and Sutherland area as the Dounreay plant is decommissioned.
At the meeting held in the Pentland Hotel, it was reported that £1.873 million has been given out in loans across a variety of businesses – 28% in the business services sector and 17% in the energy sector.
Funding to-date has secured 147.5 jobs and created 95.5 jobs.
Published 21 November 2012