News story
North East's contribution to the UK's financial services industry hailed by Economic Secretary
Harriett Baldwin visits the North East to see first-hand the contribution the region's successful financial services sector makes to the UK economy.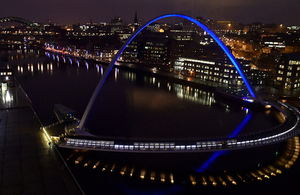 The region's financial services sector employs over 45,000 people, and generates over £3.5 billion for the UK economy each year.
While in the North East the Economic Secretary will meet with key firms and individuals as part of her ongoing program to champion UK financial services outside of London.
Economic Secretary to the Treasury, Harriett Baldwin, said:
Creating a Northern Powerhouse is a vital part of our economic plan to rebalance the UK economy. The North East's thriving financial sector makes a crucial contribution to the local economy, employing tens of thousands of people and generating billions for the UK. It is a great success story, helping to build a strong Northern economy.
Starting in Newcastle, the Economic Secretary will visit Virgin Money, a key industry player that employs 2,000 people in the city. At Virgin Money she will meet with the firm's CEO, Jayne-Anne Gadhia, who is leading a review into women in finance at the government's request.
The review was announced in the government's Productivity Plan in July and will look at the representation of women in senior managerial roles in the financial services industry. The OECD have estimated that equalising the role of men and women in the labour market could increase GDP by 10% by 2030 . The financial services sector is well placed to lead the way on issues that matter across the economy and this important review will look to how the UK can expand female representation in senior leadership positions.
While at Virgin Money, the minister will meet with staff and emphasise the crucial role of challenger banks in providing customers with more choice on the high street and the importance of increasing competition in banking to improve outcomes for consumers.
She will also meet with the firm's first intake of 14 apprentices who will start at the bank in October. Virgin Money have set up a new apprenticeship programme to bring new talented people into their business. Schemes like this are contributing to a key part of the government's economic plan to boost investment in skills and help deliver 3 million new apprenticeships over the next 5 years.
Harriett Baldwin said:
I am very excited to see the progress Virgin Money is making as it seeks to compete with the big players in the industry. I am committed to working with challenger banks like Virgin Money to continue to improve competition and deliver better outcomes for consumers.

I am delighted that Jayne-Anne has agreed to lead a review into the representation of women in senior managerial roles in the financial services industry. As CEO of Virgin Money, she is in an excellent position to fully understand the issue and deliver results that will help the economy grow.

It is also great to see more firms like Virgin Money taking on apprentices. This is hugely important for attracting more talent to the sector and for enhancing its broader reputation and standing.
Chief Executive at Virgin Money, Jayne-Anne Gadhia, said:
It was a pleasure to welcome the Economic Secretary to the Treasury to our offices in Newcastle today and it was fantastic to be able to introduce Virgin Money's first intake of apprentices to Harriet and her team.

Apprenticeship schemes can play a strong part in boosting skills and improving productivity in the UK. A skilled workforce is a key driver of a strong economy, and I am pleased that we can play our part in the Government's commitment to create three million apprenticeships by 2020.

I am delighted to have been asked to lead a review into the representation of women in senior managerial roles in the financial services industry. We need more brilliant women driving productivity and economic prosperity alongside brilliant men and I look forward to presenting my findings early in 2016.
The Economic Secretary will visit a local business, the Great Annual Savings Group, which is the first company in the North East to have benefited from Santander's Growth Capital Fund. This fund is helping to bridge the gap that exists between traditional bank finance and equity investments and so that firms can access the type of financing that they need. The Great Annual Savings Group works with businesses help reduce their costs and increase productivity.
Harriett Baldwin said:
It is great to see small businesses like Great Annual Savings Group benefiting from programmes like Santander's Growth Capital fund. This is a good example of how improved access to finance is helping small businesses grow.

The government is committed to improving access to finance for small businesses, which is why we have put competition and customer choice at the centre of the government's agenda.
Chief Executive and Chairman of Great Annual Savings Group, Bradley Groves, said:
Access to affordable finance is essential for the continued growth of local businesses in the North East. The funding package from Santander has allowed us to increase staff numbers by more than 30% and launch an apprenticeship scheme that will see up to ten young apprentices start work with us in September.

We are extremely grateful for the support from Santander. Through our partnership we've been able to expand our business, create jobs for local people and oil the wheels of the local economy.
Divisional Managing Director for Northern Ireland, North East England & Scotland, Santander UK, Kevin Boyd, said:
As a scale challenger, Santander is using its size and its culture of innovation to bring much-needed competition and choice to the SME banking market to help businesses invest and grow. We are delighted to have supported Brad and his team in the development of their business.

Great Annual Savings Group is a business that will play a key role in creating jobs and generating economic benefits for the North East. This is a key market for us and we are focused on supporting and nurturing the development of fast growth and ambitious businesses across the region.
To conclude her visit, the Economic Secretary will attend a major seminar hosted by Atom Bank with around 20 financial and technological partners from across the North East. The event will explore what it takes to start a new bank, and the importance of innovation and technology for banks operating in an increasingly competitive environment.
At the event, the EST will launch a new partnership between Atom Bank and Durham University. This will be a significant piece of statistical research and modelling which, when complete, will enable the bank to provide even greater competitive edge and cost efficiencies to the retail banking market.
Harriett Baldwin said:
Atom Bank is the first of its kind in the UK. It's a digital bank – being built from the ground up and I'm delight that it's all happening in the North East. The management team are investing in the skills and people of the region to create a unique digital banking offer for consumers.

The UK financial services industry and the UK's science base are two of our most important economic strengths so I am pleased to be able to announce that the bank is teaming up with Durham University, one the world's top 100 universities, to ensure that it is as competitive as possible in its offer to consumers.
Chief Executive of Atom, Mark Mullen, said:
Atom is a national business operating from the North East. Our determination to provide the very best levels of confidence, service and experience means that we looked at suppliers from across the country when we were choosing our partners. We have undertaken thorough searches of the options open to us – from professional services through to infrastructure and systems to app development – and we were delighted to be able to bring together a group of partners with a clear bias outside London.

We have some wonderful and key partners based inside the M25, but the plain fact of the matter is that the Midlands and the North – and in particular the North East – has a pool of great businesses and talented people who are sharp, contemporary and very competitively priced. It says a lot that as we build a national bank two thirds of our spend is taking place with businesses from the North East and that the overwhelming majority is with firms from Birmingham northwards.
Published 2 September 2015