Press release
North east anglers urged to go fishing
North east anglers old and new are being urged to buy a rod licence for the start of the new river fishing season.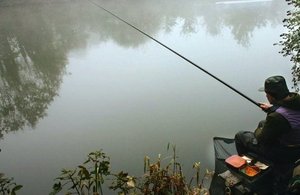 The new fishing season on rivers, streams and drains started yesterday (Tuesday, June 16).
It costs anglers from just £27 for an annual licence and the money goes towards Environment Agency projects for the area's vast range of watercourses set in beautiful countryside.
And with Father's Day this coming weekend it's the ideal opportunity to go fishing for the whole family.
The Environment Agency's Kevin Summerson said:
With Father's Day just around the corner on June 21, a new rod or a licence is a great present.

And with junior options available as well it's an excellent time of year to be encouraging more youngsters to get out on our riverbanks and spend quality time as a family.

We are blessed in this area with beautiful fishing areas set in fantastic countryside and it's a great way to get away from it all.

Buying a licence couldn't be easier – just pop online to the Post Office website or the Angling Trust's new fishing info website.
All the money raised from rod licences goes back into improving fish stocks and providing a better environment for wildlife and people.
During the close season – between March 15 and June 15 – North east enforcement teams carried out 65 patrols with 23 anglers reported for close season offences and a further 16 cases of unlicensed angling.
In total in excess of 2,000 anglers have been checked during close season to ensure they have a current fishing licence and are fishing in accordance with legislation and byelaws.
The Environment Agency is reminding people not to cheat on angling and buy a rod licence.
As well as the annual licences, there are options available at just £5 for juniors aged 12-16, anglers under 12 do not need a licence. There's also concessions for those over 65 and with a disability.
You can buy your licence direct from the Post Office or through the Angling Trust's mobile-configured website.
Alternatively you can call the Post Office on 0344 800 5386 or by visit any Post Office branch.
To help crack down on unlicensed fishing the Environment Agency urges anyone to report illegal activity by calling 0800 807060.
Published 17 June 2015